Project Shakespeare presents its first musical workshop of Quilters by Molly Newman and Barbara Damashek; Music and Lyrics by Barbara Damashek; based on the "The Quilters: Women and Domestic Art" by Patricia Cooper and Norma Bradley Allen. Performances are Saturday, April 28th at 2pm at The Jaffrey Civic Center, 40 Main Street, Jaffrey; 7pm at the First Church in Jaffrey, 14 Laban Ainsworth Way, Jaffrey; and, Sunday, April 29th at the Mariposa Museum, 26 Main Street, Peterborough. Tickets are $10 adults and $7 for students and seniors.
Quilters is the story of pioneer woman and children blending a series of interrelated scenes into a rich mosaic which captures the beauty, joy, and challenges of frontier life. Illuminating stories contained in various patches or "blocks" with music, dance and drama, the action depicts the lot of women on the frontier: girlhood, marriage, childbirth, spinsterhood, twisters, fire, illness and death. Quilters radiates with love, warmth, and lively humor and the moving spectacle of simple human dignity and steadfastness in the face of adversity. Quilters is perfect entertainment for the entire family.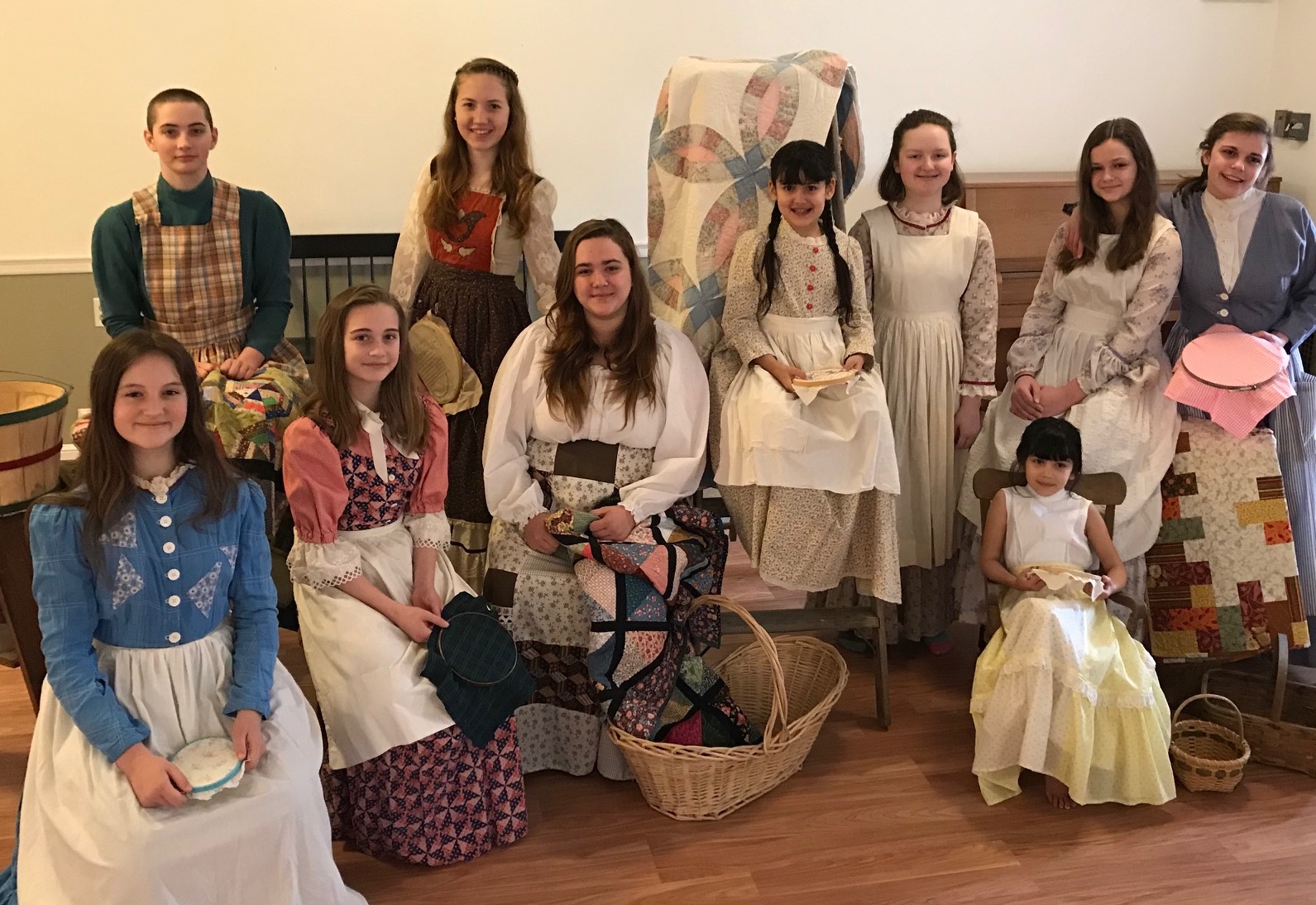 Originally developed and produced at the Denver Center Theatre company, this joyous and moving celebration of American Womanhood became a record-setting regional theater success before its presentations on Broadway and at the Edinburgh Festival. Combining music, dance movement and scenes of vivid dramatic intensity, the play pays eloquent tribute to the courage and spirit of our nation's pioneer woman.
The cast includes: Indigo Wolf, Abigail Hampson, Autumn Moran, Arianna Wentworth, Helen Martynuska, Alyssia Maki, Gabrielle Ramsden, Josephine Furlong, Kaia Colby, Nia Lanphier, Holly Lanphier, and Isabelle Ferguson. Stage managing are Aidan Lanphier and Kaden Colby.
This performance will be the culmination of a Project Shakespeare program called One Play in One Week. Over the April school break, homeschool and public school students join together to rehearse, stage and perform the play in one week's time – quite a challenge but one that Project Shakespeare students are excited to take on.
Visit: projectshakespeare.org for more information
Donate Today!
Your contributions will help keep this important community and cultural center open for future generations!