The Jaffrey Civic Center will host a joint contemporary jewelry exhibit by Jaffrey artists, Barbara and Hal Danser from Nov. 22 through Dec. 23. The exhibit will feature glass necklaces and earrings in addition to turquoise and sterling necklaces. The exhibit will open on Friday, Nov. 22 and there will be an Opening Reception on Saturday, Nov. 23 from 5 pm to 7 pm with refreshments. Free and open to the public.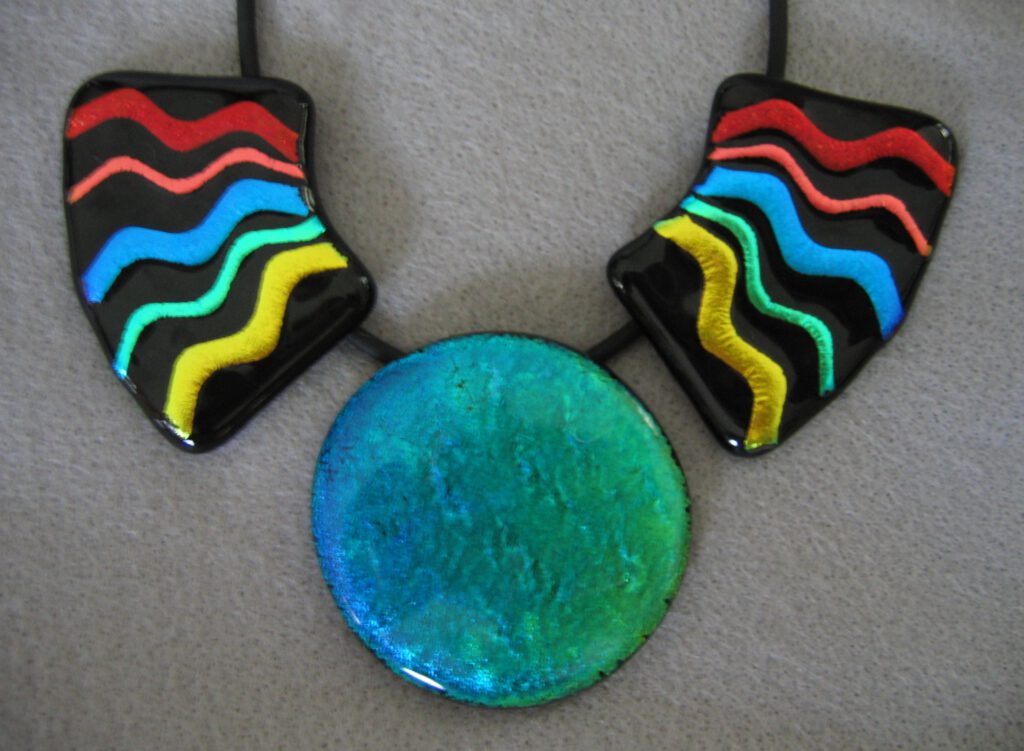 Hal has been enticed by fused glass for the past twenty years. Through experimentation and learning, he has refined his style, focusing on the creation of unique, contemporary jewelry in the form of necklaces, pendants, and earrings. His jewelry is represented at a number of select galleries throughout the United States. Formerly a teacher at NHIA Sharon Arts Center, Hal currently teaches glass fusing at the Currier Museum Art Center in Manchester and in the Danser Art Glass Studio in Jaffrey.
Barbara has been designing contemporary glass necklaces for eight years, creating interpretations of Earth and the Universe, as well as totally abstracted forms. Each design is a one-of-a-kind original. She is passionate about the reflective quality and transparency of the glass medium. Barbara has been a frequent visitor to New Mexico for twenty-five years, taking plein air painting groups to Santa Fe, Taos and Ghost Ranch since 1996 and occasionally retreating there to paint and sculpt. Her interest in Pueblo culture has enhanced her love of turquoise, one of her favorite stones. She designs turquoise and sterling necklaces, gathering stones from around the world. Formerly a painting teacher at NHIA Sharon Arts, Barbara continues to teach painting locally in a class environment and in workshops.
The Jaffrey Civic Center, is located at 40 Main Street, Jaffrey, New Hampshire, parking in rear. We are a designated 501(c)3 non-profit dedicated to art, education and civic activities. Hours are Monday through Friday, 10 am- 12 noon, 1to 5 pm and Sat 10-2. Admission is always free. For more information about us, call 603-532-6527, e-mail us at info@jaffreyciviccenter.com. Find our website, www.jaffreyciviccenter.com, or "Like" us on Facebook.