Hello Friends,
My name is Rebecca Fredrickson and I am the new Executive Director for the Jaffrey Civic Center! I come to this role as an experienced leader who is a passionate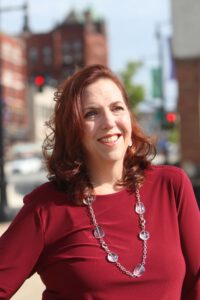 advocate for artists and art education. It has always been my dream to be a part of an organization that connects artists to the larger community and enriches lives through the arts. I was excited to learn about the Jaffrey Civic Center, especially when I discovered that our founder, Marion Mack Johnson's vision for the center, was so similar to my own aspirations.
Since beginning my role on March 8, so many people have expressed to me how much the Jaffrey Civic Center means to them. I have heard so many stories about events, exhibits, and activities that have brought so much joy to them over the years. Many people have donated their time and talents to help the center continue to grow and thrive. For that I am grateful. In a year that has brought so many challenges, it has been our volunteers, our incorporators, and our dedicated Board of Trustees that have managed to steer the ship through the storm.
As I look ahead, I see a very bright future for the center. There will be a return to educational programming, musical performances, events, and of course, high quality art exhibitions. Also, there will be new ways to access and connect with the center both in person and virtually. I invite you all to come and be a part of this new chapter at the Jaffrey Civic Center. It is sure to be a beautiful, exciting journey.
Kindest Regards,
Rebecca Fredrickson