This Month's Featured Artist
Maureen Ahern
Artist Statement
ahernartist.com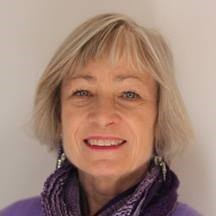 Maureen Ahern grew up and lived by the coast of Massachusetts for many years, and her fascination with the beauty and power of the ocean continues to influence her work. She now lives in the Monadnock region of New Hampshire. Her art, in addition to exploring the ever-changing aspects of water, also examines the variables of light, air, color and motion in nature, and the human spirit.
Her most recent work uses 'interference paint.' This paint only reflects about half of the light spectrum, meaning that blue paint looks blue, but also appears yellow—its opposite color on the light spectrum—when viewed from another angle. This property of the paint gives life to the work as the colors change depending on the light source and where the viewer stands. You can see this effect in her art in this video which shows light moving across the painting's surface. In addition to the video, this site also includes a slide show with other examples of the artist's work. The paintings have been photographed from two different directions to illustrate the interference paint's properties.  Quite a few of the paintings have bits of CD's impregnated onto their surface. The reflective quality of this material amplifies the impact of the interference paint. Other media in these paintings include oil sticks, pencil, wax, nails and feathers, among other materials.
Ahern's work has been exhibited in New York, Massachusetts, and New Hampshire. In her non-artist professional life, Ahern was the cofounder and president of the New Hampshire Visual Arts Coalition. This statewide cultural organization promoted resource sharing among NH Visual Arts organizations, as well as encouraged the appreciation of NH arts throughout New England and beyond. During this time she organized statewide exhibits on New Art New Hampshire in printmaking and sculpture.
She also organized a series of various exhibits by NH artists, with an emphasis emerging artists, called "New Art New Hampshire." Ahern also curated many exhibits as the former director of the Thorne Art Gallery at Keene State College in Keene NH., and she developed exhibitions and a art collection to raise awareness of the influence of the 19th Dublin NH art colony on American culture.
Ahern holds a B.F.A. and a M.A., and received a graduate teaching fellowship from SUNY Albany. She was Exhibits Curator at the Albany Institute of History and Art before becoming the Director of the Thorne Sagendorph Art Gallery. She is now retired and spending full time in her studio
Donate Today!
Your contributions will help keep this important community and cultural center open for future generations!