Facilities, Programs & Activities
The mission of the Jaffrey Civic Center provides a community center for artistic, educational and civic endeavors. The building and grounds of the Civic Center for a wide variety of programs, activities, and events throughout the year.
The first floor of the Jaffrey Civic Center houses an Auditorium Gallery, which seats a hundred people and is used for both meetings and as an artistic gallery space. The first floor also includes office space, a conference room, and a library containing an excellent collection of books specializing in Americana, art, gardening, and natural history. The library is open to the public for in-house browsing and research.
The First Floor Display Cases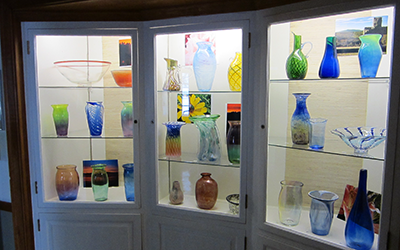 The Civic Center has a set of five cases on the first floor that are used to display local art and artifacts.
The Second Floor Cunningham Gallery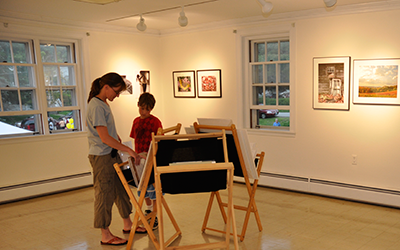 The second floor holds the Cunningham Gallery where exhibits are shown throughout the year, as well as a large studio used for classes and programs.
The Jaffrey Historical Society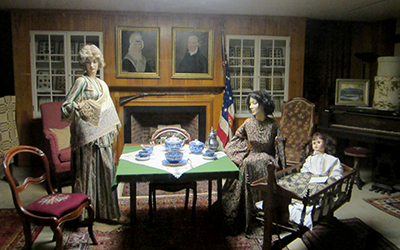 In the basement the Jaffrey Historical Society has display rooms featuring collections of a variety of antique tools, shop and tavern signs, furniture, account books, letters and other manuscript material.
The Lawn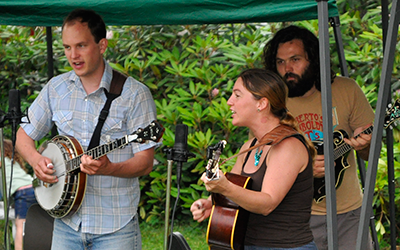 During the summer months the expansive lawn makes a perfect site for outdoor arts and crafts shows along with a variety of performances.
On-going displays and shows are held at the Center. Classes in both the visual and performing arts are offered. The auditorium is used for meetings by a diverse group of civic and cultural organizations throughout the year. A few of the frequent users of the facility are the Historical Society, the Chamber of Commerce, Team Jaffrey, Monadnock Conservancy, Monadnock at Home, Shelter from the Storm and the Boy Scouts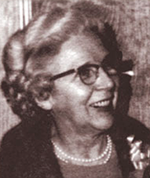 MARION MACK JOHNSON
Mrs. Johnson was a native of Jaffrey and a graduate of Conant High School and the Keene Normal School. The wife of Stephen Roosevelt Johnson and, mother of five sons, she taught school in both New Hampshire and Massachusetts. Upon her retirement she returned to Jaffrey with a vision for an "open center for activities of a cultural and historical nature."
She then founded and financed the Jaffrey-Gilmore Foundation whose main purpose was to "provide a community center for educational and artistic purposes."
The beautiful large brick building at 40 Main Street was designed by architect John Bradford Abbott and opened its doors to the community in 1966.
Thanks to her foresight, the Civic Center has, for over 40 years, been a focal point of cultural activity for the Monadnock Region.
THE JAFFREY CIVIC CENTER BOARD OF TRUSTEES AND INCORPORATORS 2019
Board of Trustees
President:
Bernie Hampsey
Vice President:
TBD
Treasurer:
Gerrit Bradley
Secretary:
Kathleen Dougherty
Board Members:

David Belletete

Virginia Eskin

Lyn Frederick
Bob Marrone
Chris Reid
Lee Sawyer
Incorporators
Karen Ayers
Joe Manning
Bonnie Bennett
Bob Marrone
Gerrit Bradley
Stella Arvanetaki
Jed Brummer
Charles Palmer
Linda Brummer
Virginia Eskin
Kathleen Dougherty
Chris Reid
Tom Doane
Paul Cooper
Bill Driscoll
Ann Sawyer
David Lang
Harvey Sawyer
Carolyn Edwards
Lee Sawyer
Lyn Frederick
Bill Schofield
Daisy Hawlk
Betsy Trimble
Kathy Williamson
Peggy Ueda
Caroline Hollister
Loise Watson
Owen Houghton
Kathy Weibel
Bernie Hampsey
Amy Pfeil
Ben Wheeler
| | |
| --- | --- |
| Executive Director: | Regina G. Vorce |
Donate Today!
Your contributions will help keep this important cultural center open for future generations!