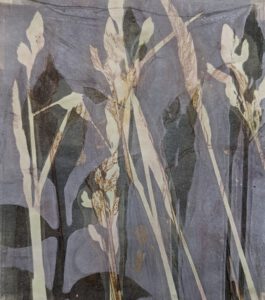 Botanical Printmaking Workshop with Gelli or Gel Press Plates with Anne-Marie LaBollita September 24, 10:30-12:30  $40
Working with an inexpensive gel plate, acrylic paints and pickings from your own home garden you can make beautiful prints without a press!  These prints can be matted and framed, cut up for collage projects, or made into cards.
Gelli plates and Gel Press plates can be purchased online. All types of acrylic paint will work: artist and student grade, and craft paint.  Participants should have a soft brayer and various types of paper to print on including: copy paper, magazine pages, rice paper and drawing or printmaking paper.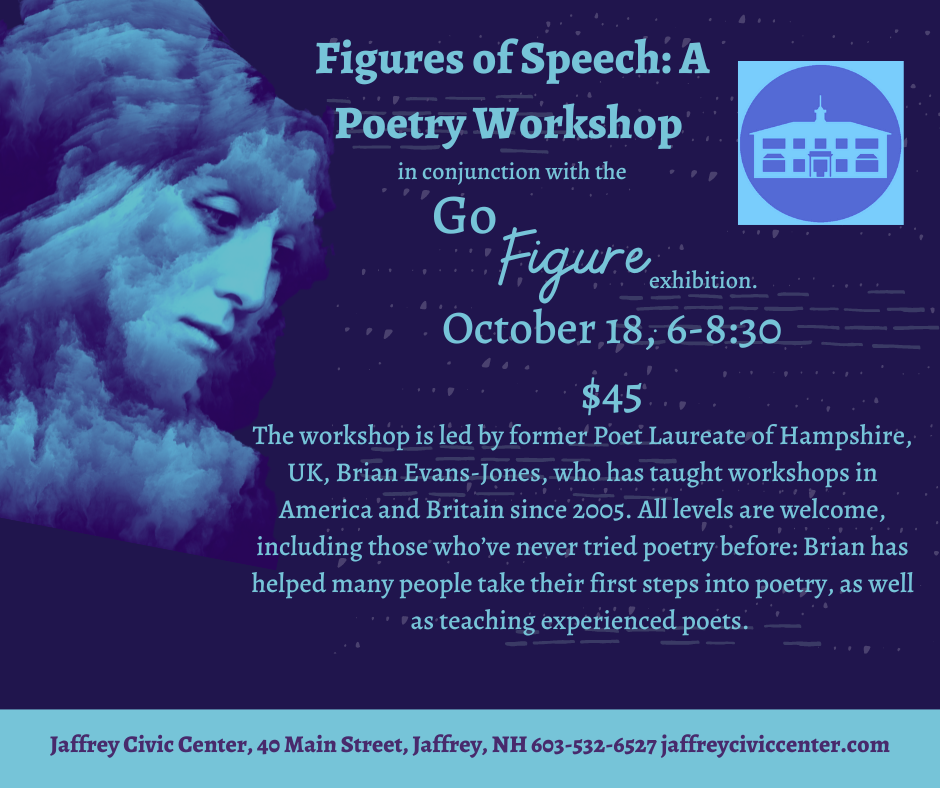 Figures of Speech: A Poetry Workshop
In conjunction with the Go Figure exhibition
October 18, from 6-8:30
In this workshop participants will write poetry that also explores the human form, as seen through the artists represented in the Go Figure exhibition, currently on display at the center. Writing about art is a wonderful way of making poems, and the workshop will explore multiple diverse ways of looking at art and using it as a starting point for poetry. The class will explore the exhibition for inspiration, write one or two poems about artworks, and get helpful feedback on their writing.
The workshop will be led by former Poet Laureate of Hampshire, UK, Brian Evans-Jones, who has taught workshops in America and Britain since 2005. All levels are welcome, including those who have never tried poetry before: Brian has helped many people take their first steps into poetry, as well as teaching experienced poets.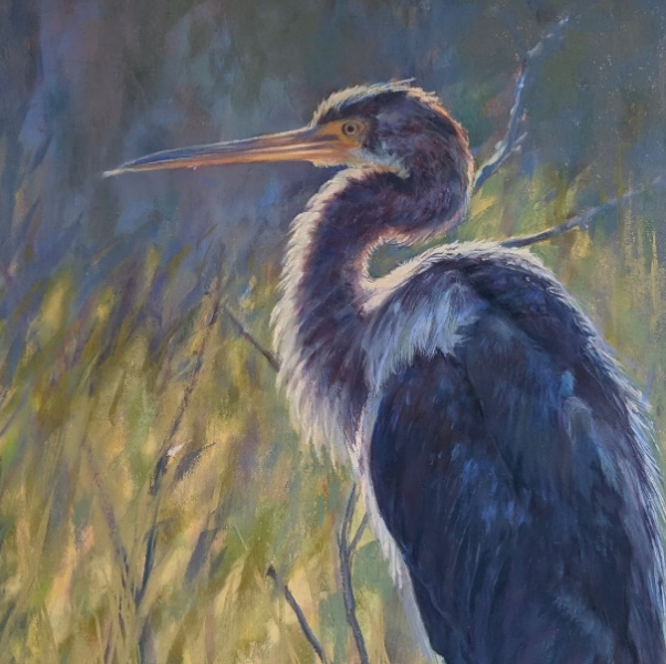 BIRDS In Pastel with Maryann Mullett
October 11th, 18th, 25thNovember 1st
4-week session: $125
You may sign up for either of these time slots:
TUESDAY: 12:00-3:00pm or TUESDAY: 5:00-8:00pm
Sign up early to make certain that there's enough enrollment to run the class.Secure your spot! All levels and beginners are welcome! Each class will consist of a half-hour demonstration followed by painting time and teacher guidance. We will discuss composition, underpainting techniques (dry vs wet), and the use of different papers to achieve the best result.
Materials list will be supplied along with a photo reference that I will be using for my demonstration.
Feel free to email with any questions at maryann.mullett97@gmail.com. Maryann would like to keep everyone healthy and ask that masks please be worn during class.
Maryann has achieved her Master Pastellist title with the Pastel Society of America and her Master Circle designation with the International Association of Pastel Societies. She is currently serving as President of the Pastel Society of New Hampshire.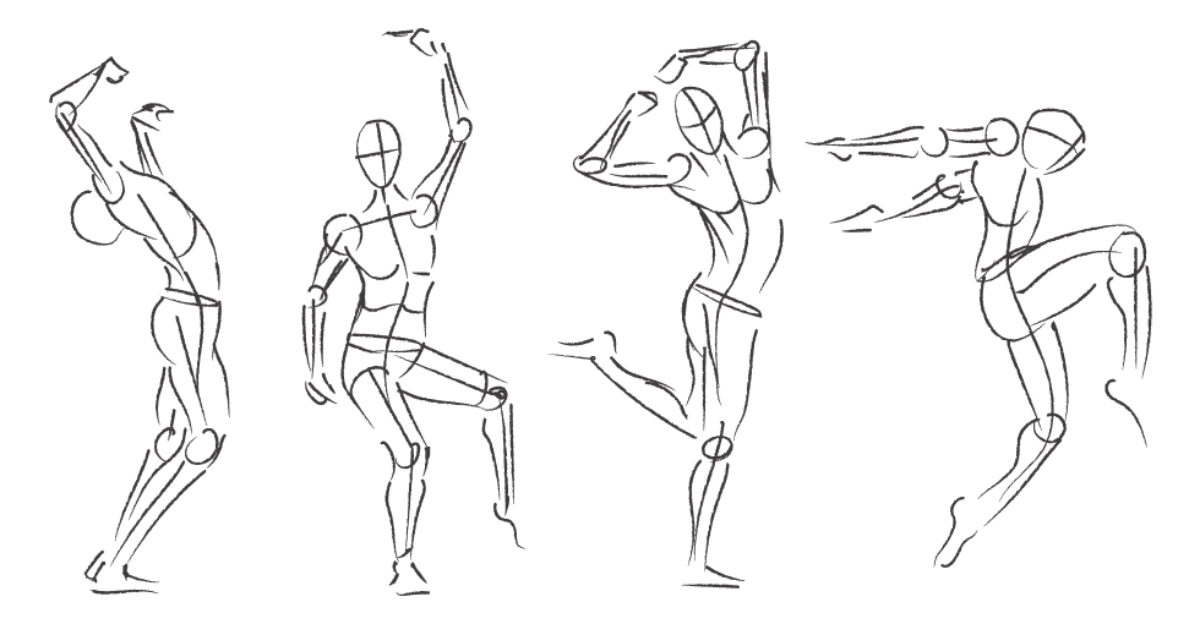 Life Drawing Sessions

Mondays

3-5PM
$150
Figure Sessions
This is not a class, but an opportunity to work from a model alongside other artists. The sessions will take place on Mondays,  from September 12- October 24 3:00-5:00 and the cost is $150 for 6 weeks.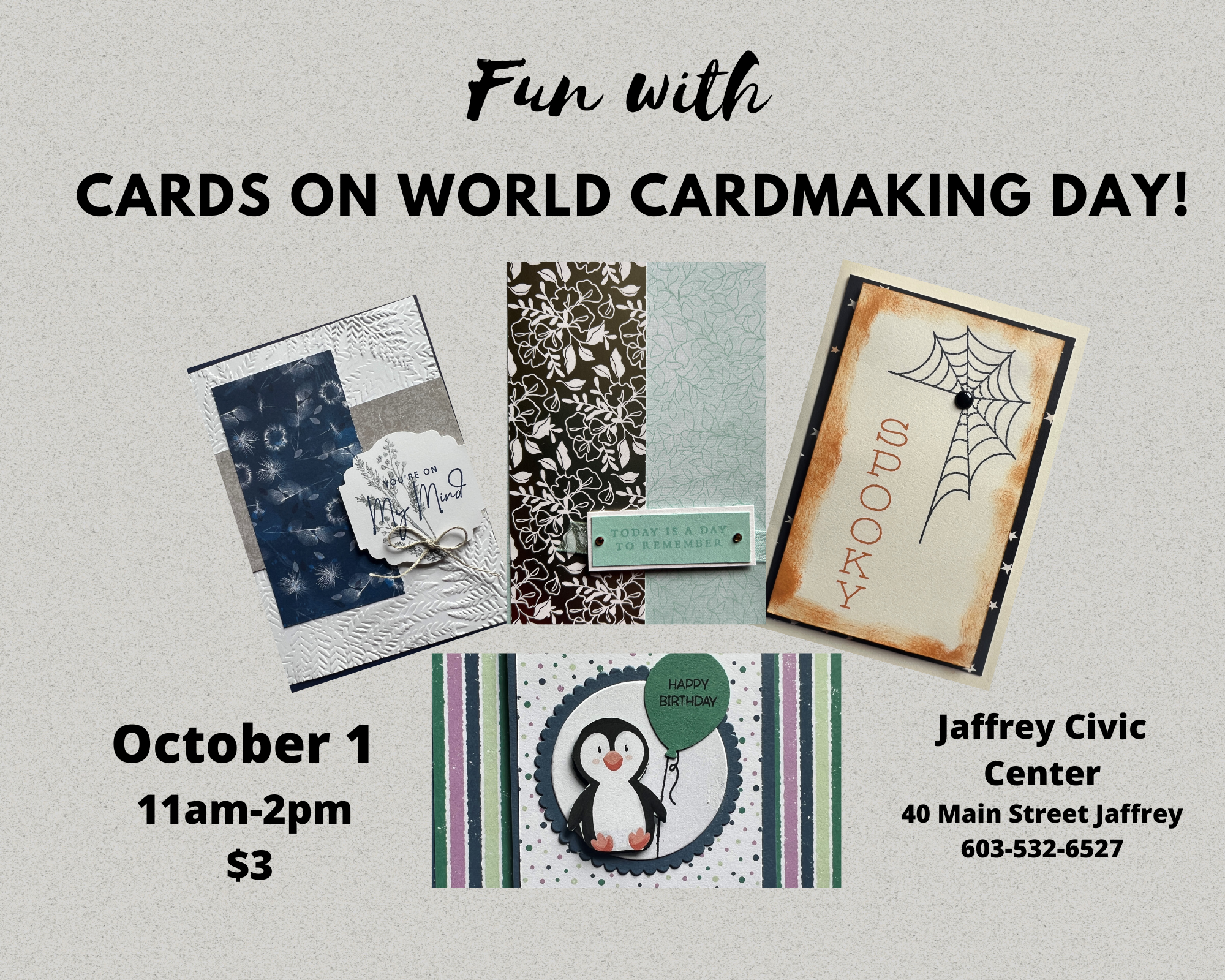 World Cardmaking Day
Celebrate World Cardmaking Day by dropping into the Jaffrey Civic Center from 11 am – 2pm on October 1. Enjoy an opportunity to make one or more cards. Choose from 4 different designs; Halloween, Birthday, Thinking of you, and Gift Card Holder. $3 per card all supplies are provided.
Payment may be made the day of the event. Pre-registration is preferred but not required.