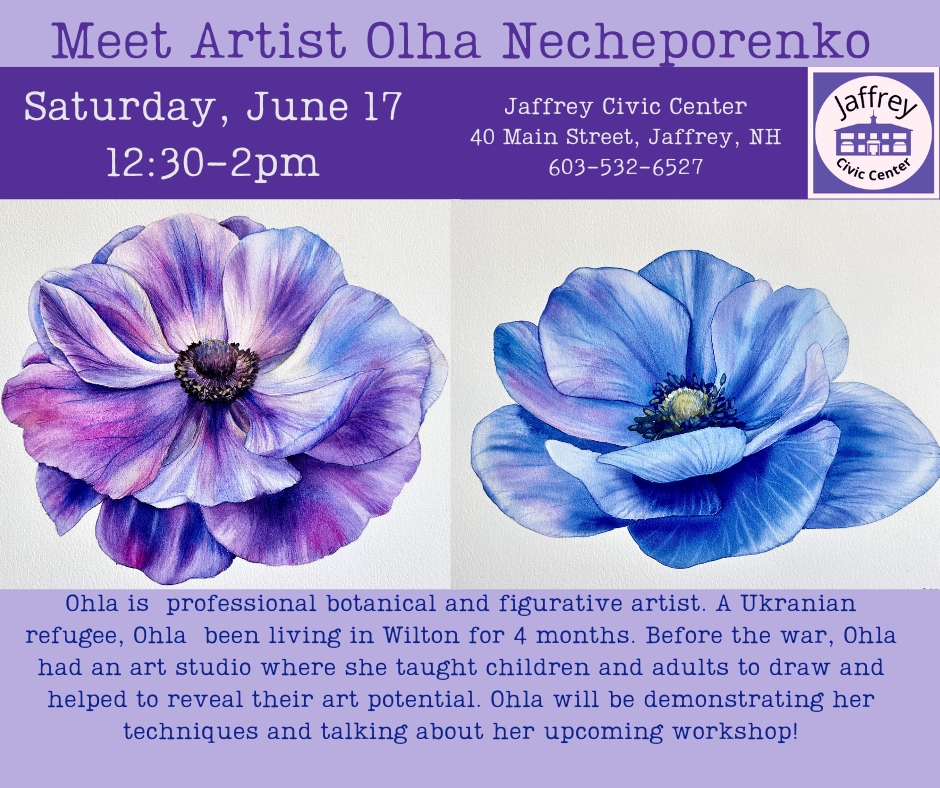 Come to the Jaffrey Civic Center to meet artist Olha Necheporenko! Ohla is a professional botanical and figurative artist. When the war in Ukraine started, she was forced to go to Poland and lived there as a refugee for 8 months and has been living in Wilton for 4 months. Before the war she had her own art studio where she taught children and adults to draw and helped to reveal their art potential.
Ohla prefers to work in watercolors and oil paints, often painting flowers and occasionally landscapes and portraits.
In addition to being an artist and teacher, Ohla is a volunteer who fundraises money to support the Ukrainian military and people affected by Russian aggression.
Ohla will be demonstrating her techniques and talking about her upcoming (July 15) workshop at the Jaffrey Civic Center.
The meet the artists talk is free to attend but donations are always accepted and appreciated!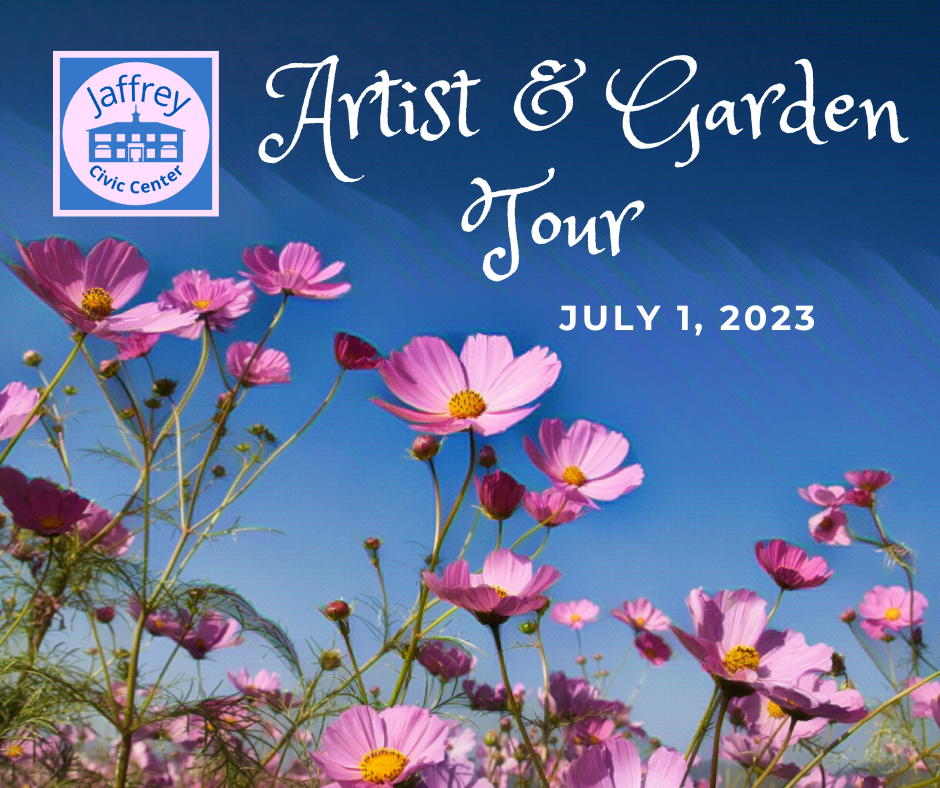 Join us for our second annual Artists and Gardens tour!

Saturday July 1st,  from 10:00 AM to 2:00 PM, the Jaffrey Civic Center will be hosting its second annual Artist and Garden tour. The tour will include sites in Rindge and Jaffrey, New Hampshire, an area renowned for its picturesque landscapes and artistic spirit. The JCC invites visitors to embark on a captivating journey of discovery: an artist and garden tour that promises to delight the senses and nourish the soul. The tour will weave through a selection of six or more privately owned gardens, each beautiful location will have an artist on sight creating art.
Delight in the symphony of colors, textures, and fragrances as you meander through enchanting pathways and discover hidden nooks brimming with beauty. Engage in conversations with the creators, gaining insights into their inspirations, techniques, and their profound connection with Jaffrey's natural beauty. The Jaffrey Civic Center artist and garden tour offers not only a visual feast but also an opportunity to nurture your own creative spirit.
There will be a reception sale of the works created at the event Friday, July 8, at the Jaffrey Civic Center from 5:30-7.
Reservations for the tour can be made online through this link or can be made at the Civic center during open hours.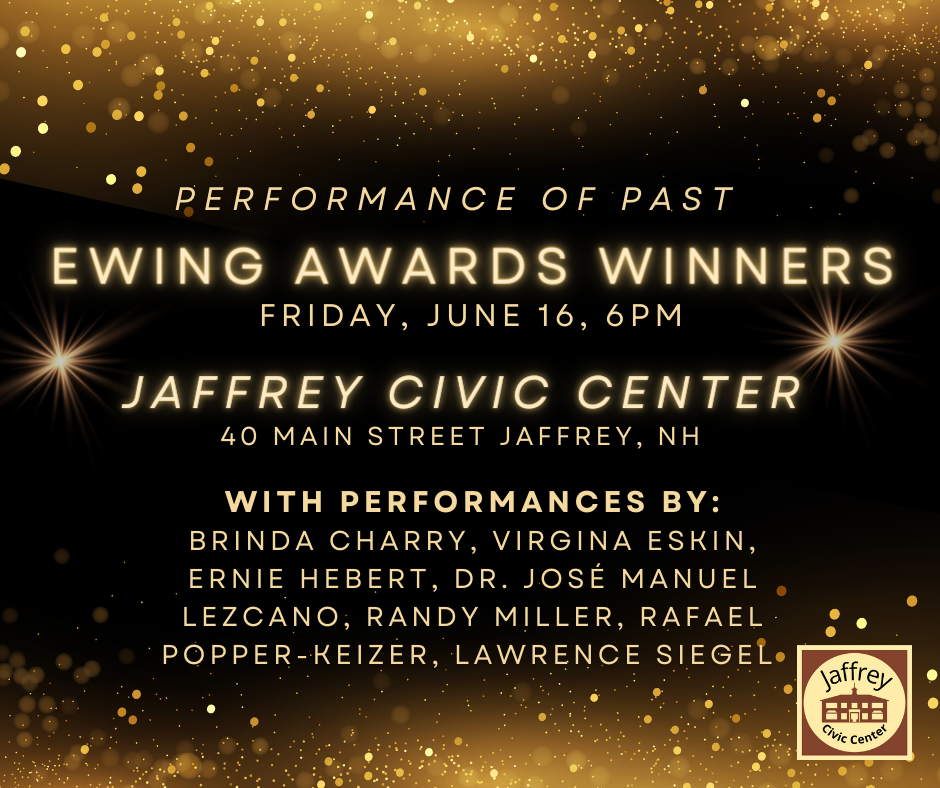 In this the season of the annual Ewing awards, the Jaffrey Civic Center is excited to announce that it will be hosting an evening of performers. The event, which will take place on June 16th at 6PM, will feature some of the previous Ewing award winners. For over a decade, awards have been given to artists of all media and styles in the Monadnock region. Ruth and James Ewing, the Keene Sentinel, and Arts Alive! have sponsored this recognition of the many artists working in this aesthetically rich and varied geographic area.
The concert will take place in conjunction with the ongoing art exhibition which showcases previous winners in the visual arts realm. The program will include authors Ernie Hebert and Brinda Charry, a film clip by Lawrence Siegel, and a musical performances by Randy Miller, Dr. José Manuel Lezcano, Rafael Popper-Keizer, Jessica Gelter, and Virginia Eskin.
Last year, the Jaffrey Civic Center was also awarded one of the Ewing Awards for being an Arts Presenter under the new, dynamic leadership of director Rebecca Frederickson. It was the idea of Susan Wadsworth, JCC volunteer, artist, and board member that one of the 2023 JCC exhibitions be devoted to the past Ewing winners. Craig Stockwell jumped on board, and as a past winner his leadership has been essential in this exhibition.
The concert is free and open to the public, however a $10 donation to the Civic Center is suggested.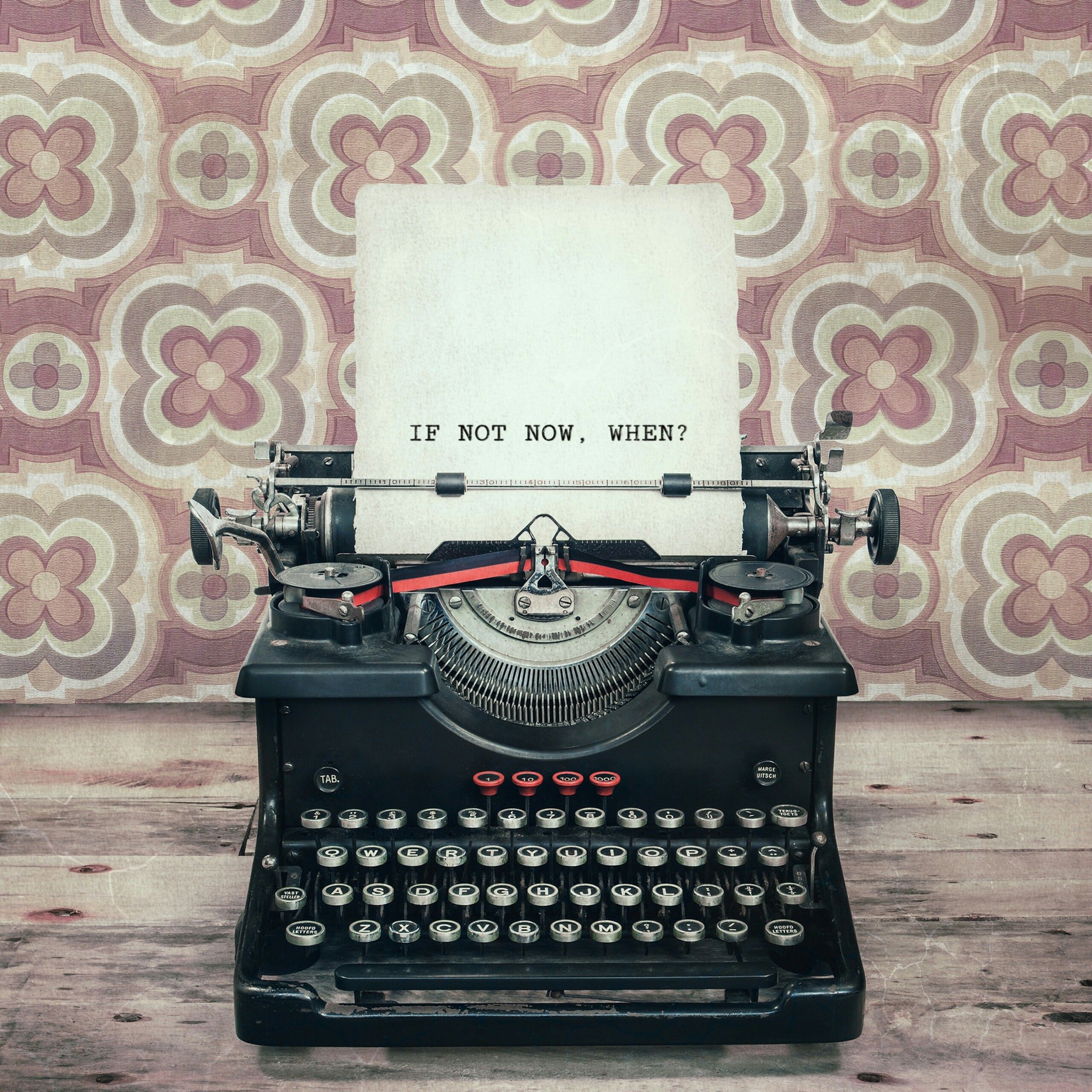 Monthly Writer's Group
First Tuesday each month 6:30PM
Writers are encouraged to bring their writing, share it with the group, and receive helpful, supportive feedback on how they can develop it. All levels are welcome, from beginner to published. In addition to the feedback on writing, this is an opportunity for writers to meet other writers, help them out, and get ideas! The group is set to meet at Jaffrey Civic Center on the first Tuesday of every month, 6-8pm. The cost is $10, and you can pre-book at https://bit.ly/3PaIHsG or pay on the night.
The writers' group is led by former Poet Laureate of Hampshire, UK, Brian Evans-Jones, who has taught workshops in America and Britain since 2005. All levels are welcome, including those who have never tried poetry before: Brian has helped many people take their first steps into poetry, as well as teaching experienced poets.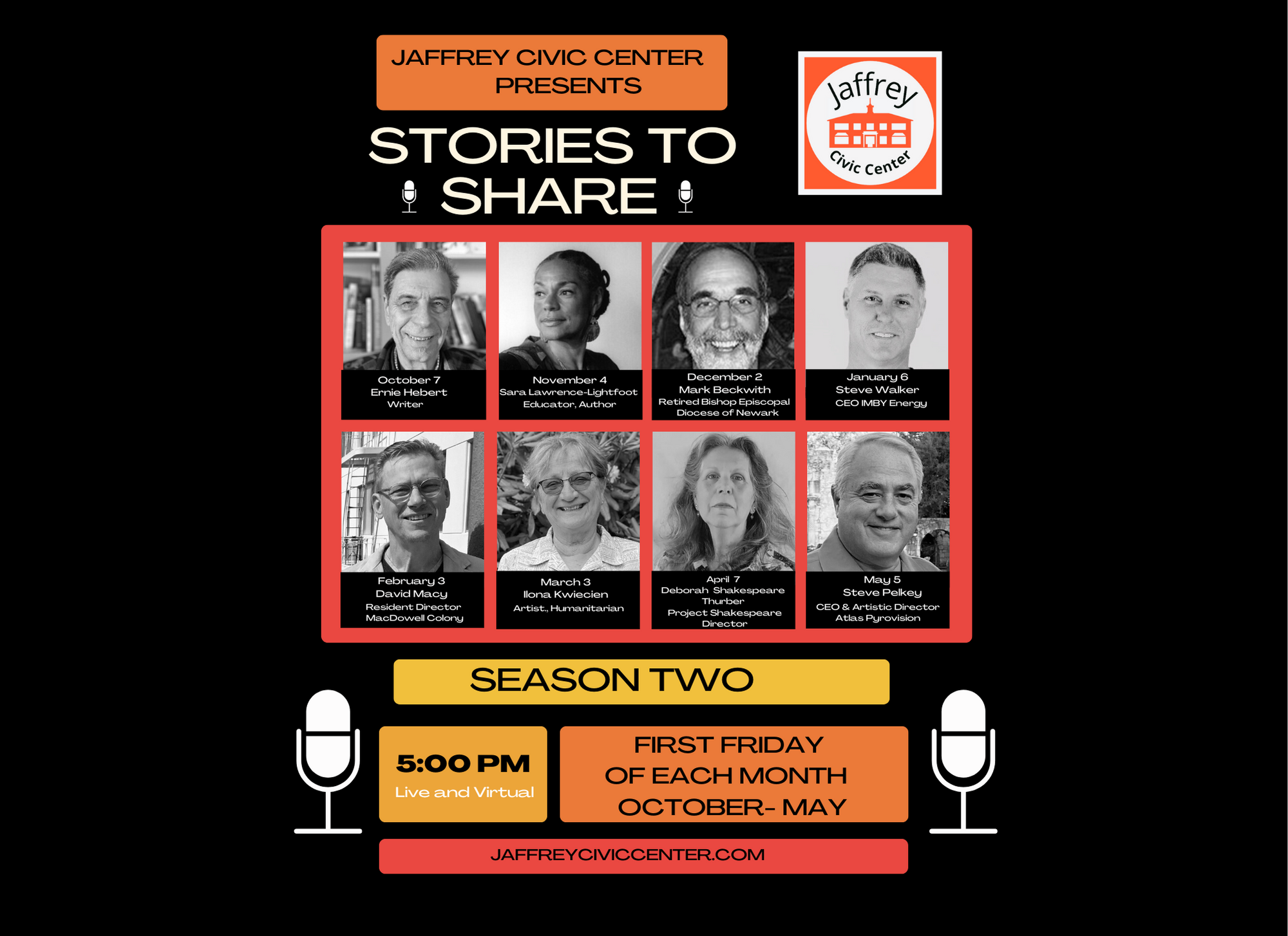 Did you miss a previous Stories to Share event?
 "Stories to Share,"a speaker series organized by Joseph Steinfield has just completed its second season which featured eight distinguished speakers, all of whom are closely connected to the Monadnock Region. All
sessions were offered in person and virtually and were open to the public at no charge.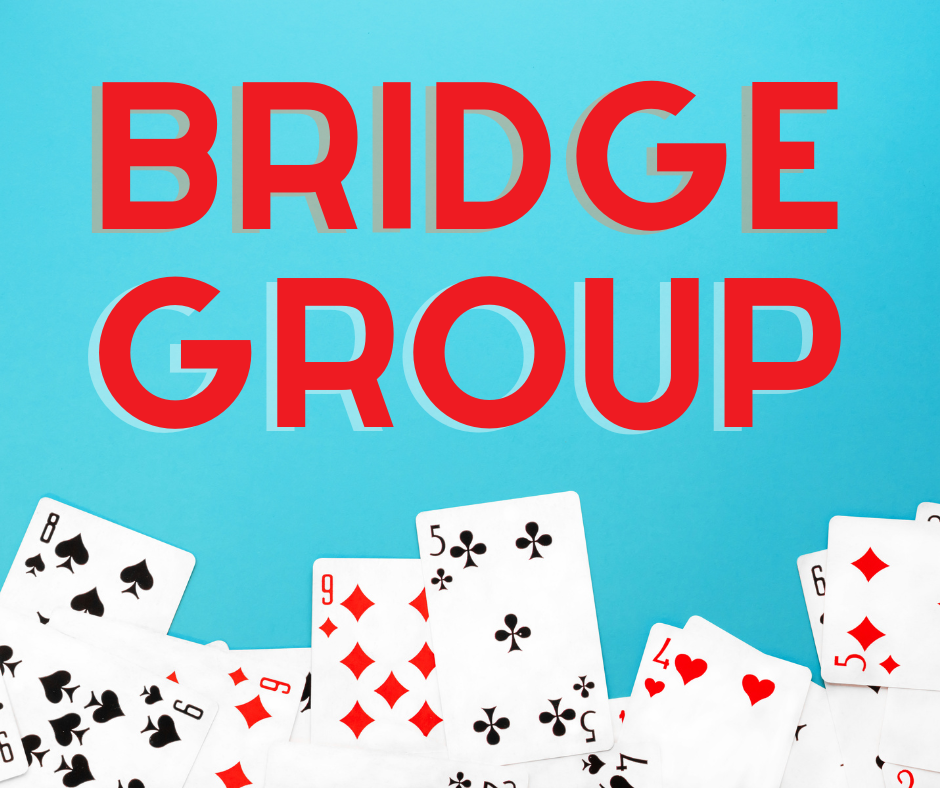 Bridge Group
The Jaffrey Civic Center hosts a weekly Bridge Group. Interested persons should email the Jaffrey Civic Center as spaces and availability can vary from week to week.