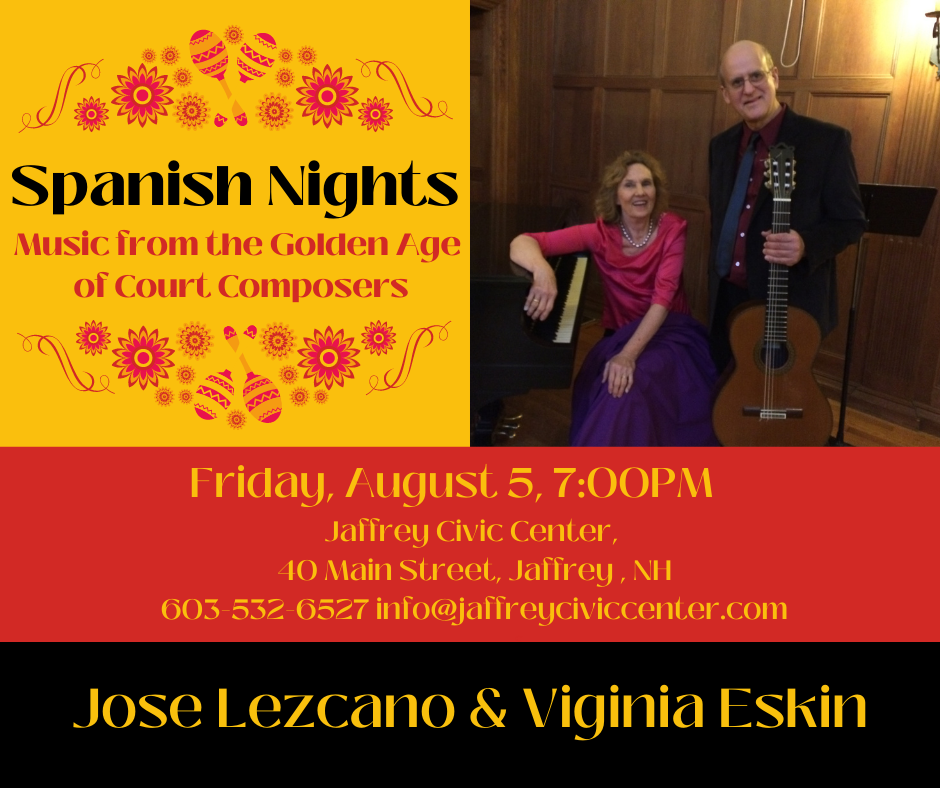 Spanish Nights with Jose Lezcano & Virginia Eskin
Friday, August 5, 7pm
This Friday, August 5, at 7pm, the Jaffrey Civic Center is pleased to offer "Spanish Nights" a performance by Jose Lezcano and Virginia Eskin. As guitar soloist and composer, José Manuel Lezcano has captivated audiences on four continents. In programs of South American and original works,he has appeared in major venues and festivals, including Carnegie Recital Hall, the NYC North-South Consonance Series, Cuba, Trinidad & Tobago, Spain, Ecuador, Colombia, Peru, Brazil, China, Germany, and the Czech Republic as recitalist and concerto soloist. Described  by Fanfare Magazine as "an excellent guitarist as well as an imaginative composer," Jose has earned numerous professional recognitions, including first prize in the MTNA National Guitar Competition, the NHSCA Individual Artist Fellowship, NHMTA Composer of the Year (twice), KSC Distinguished Research Award, and a Fulbright Award to Ecuador, where he pursued research on the guitar as ritual instrument in indigenous / mestizo summer solstice festivals, and taught courses at the Pontificia Universidad Católica del Ecuador.  Virginia Eskin is a classical pianist with a large and varied repertoire. She has championed and recorded music written by American composers (Edward MacDowell, Arthur Foote, George Chadwick, George Gershwin and many others); women composers such as Amy Beach, Ruth Crawford Seeger, Louise Talma, Marion Bauer, and Vítìzslava Kaprálová; and music written by composers who perished during the Holocaust. Virginia has also gained a reputation as a ragtime specialist and has found and recorded neglected works by American women. She created the "Ragtime Project" consisting of four CDs on the KOCH label and has appeared at the annual Scott Joplin Ragtime Festival in Sedalia, Missouri.
Friday night's  performance will feature music from the Golden Age of Court Composers. This is a free event, but to help the Civic Center continue to offer such programs, donations are appreciated.
The Jaffrey Civic Center is a 501(c)3 non-profit cultural facility founded in 1966. The mission of the Jaffrey Civic Center is to provide and sustain a public venue where citizens, residents, and visitors of the Monadnock region can pursueartistic, educational, and civic activities. The Center's goal is to contribute to the cultural    and enlightenment of the community. There is no admission fee to the Civic Center and all art shows and receptions are FREE and open to the  public. The Center also hosts fee-based educational and other programs, as well as serving as the home to the Jaffrey   Historical Society. For more information about the Jaffrey Civic Center: www.jaffreyciviccenter.com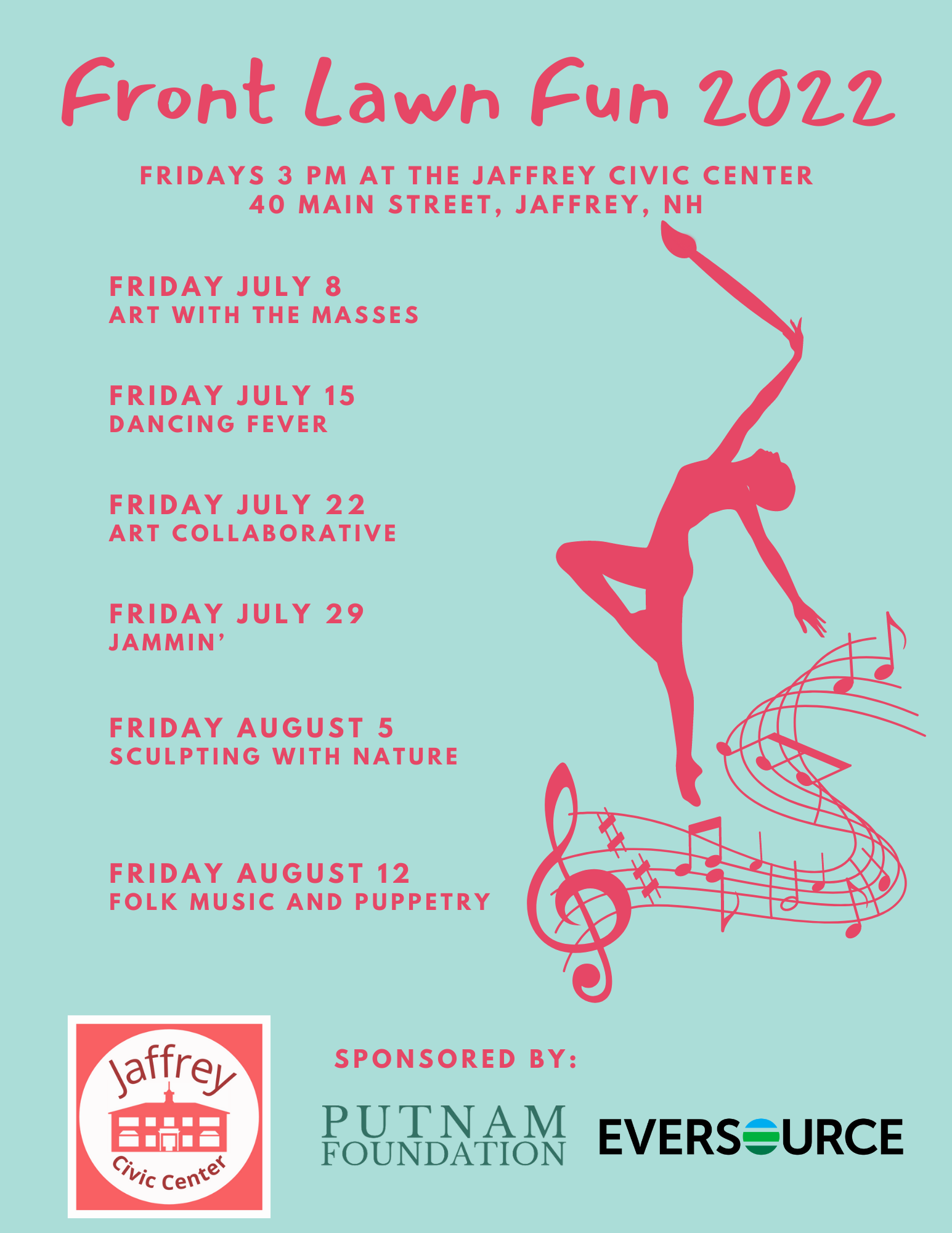 Front Lawn Fun

Every Friday, July 8- August 12
Join us each Friday afternoon for some free creative fun on the Front Lawn of the Jaffrey Civic Center!
There will be different events and activities each week!
Friday July 8, 3-5
Art With the Masses
Friday July 15, 3-5
Dancing Fever
Friday July 22, 3-5
Art Collaborative
Friday July 29, 3-5 
Jammin'
Friday August 5, 3-5 
Sculpting with Nature
Friday August 12, 3-5 
Folk Music and Puppetry
Stay tuned for more announcements in coming days and weeks!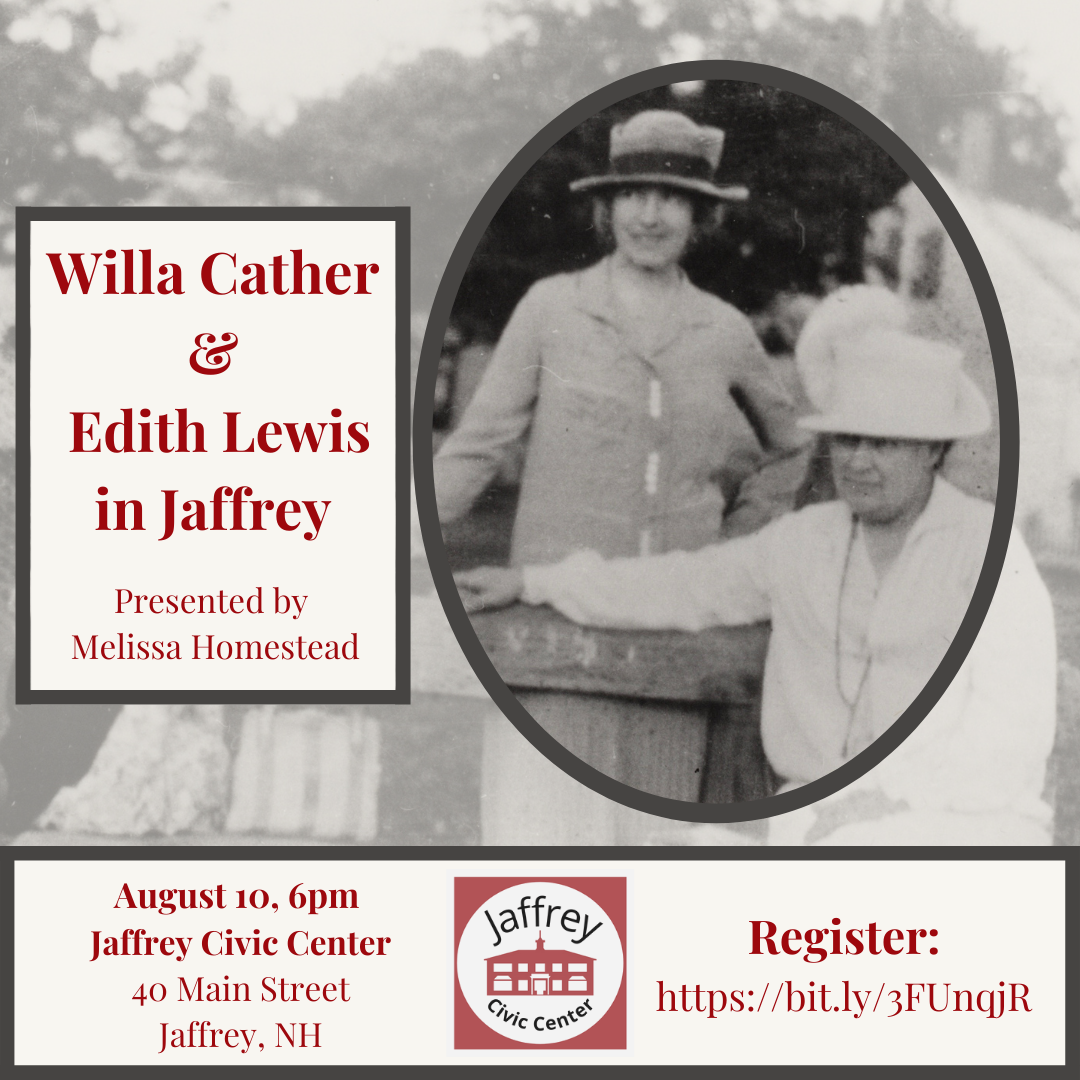 Willa Cather and Edith Lewis in Jaffrey                 
August 10, 6PM
Presented by Melissa Homestead

2022 marks the 75th anniversary of the death of American novelist Willa Cather and the 50th anniversary of the death of her partner of nearly 40 years, Edith Lewis. Long mischaracterized as Cather's faithful secretary who had herself incongruously buried at her employer's feet, Lewis was a highly-compensated professional women in magazines and advertising and, behind the scenes, Cather's editor. Drawing from and going beyond her book The Only Wonderful Things: The Creative Partnership of Willa Cather and Edith Lewis (Oxford University Press 2021), Melissa Homestead will tell the story of Cather and Lewis's visits to the Shattuck Inn in Jaffrey and their burials, side by side, in the Old Burying Ground.