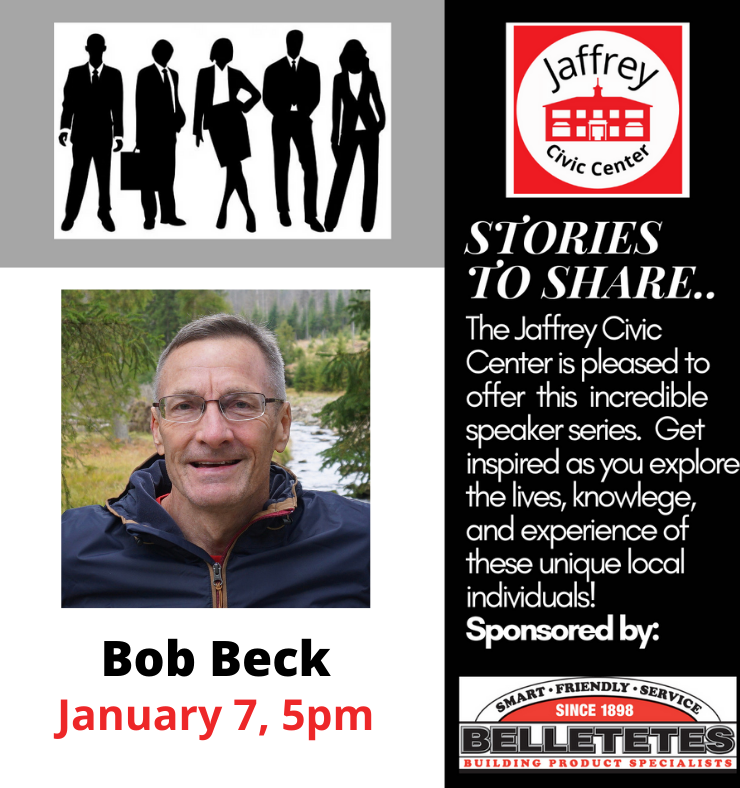 Stories to Share with Bob Beck
The Jaffrey Civic Center is pleased to announce that Bob Beck will be the next speaker in our "Stories to Share" series.  His topic will be: "Was That a Grenade or a Mortar? Stories From a Terrorist Attack."
One day after the 5th anniversary of 9/11, the US Embassy in Damascus, Syria was the target of a violent terrorist attack.  Bob was serving in Damascus at the time and lived through the attack from his office on the third floor of the building.  Please join Bob as he describes the assault and recounts stories from that tumultuous day, some quite harrowing, and some downright humorous.  
Robert "Bob" Beck retired to the Monadnock area in August 2020 after a 30+ year career overseas serving in US Embassies in Europe, the Middle East, and Asia. Bob currently teaches Foreign Policy for Keene State's CALL program.  He lives in Peterborough with his wife of 36 years, Meg. 
The talk is the fourth in the Center's monthly speaker series, which is held on the first Friday of each month, October to May. Joe Steinfield, who writes monthly columns for the Keene Sentinel and the Monadnock Ledger-Transcript, is the moderator for the series.
The program will be available as an in-person event at the Jaffrey Civic Center in the Auditorium Gallery as well as via Zoom. Pre-registration is required, and for this event, the center is requiring proof of COVID19 vaccination. Masks will also be required. These programs are free of charge, but to help support this event and others like it, donations are appreciated. The series is supported by Exclusive Platinum Sponsor, Belletetes, Inc.
To register for in-person event go to :
https://www.eventbrite.com/e/stories-to-share-with-bob-beck-tickets-226018496407
 To register for zoom please email:
jaffreyciviccenterevents@gmail.com