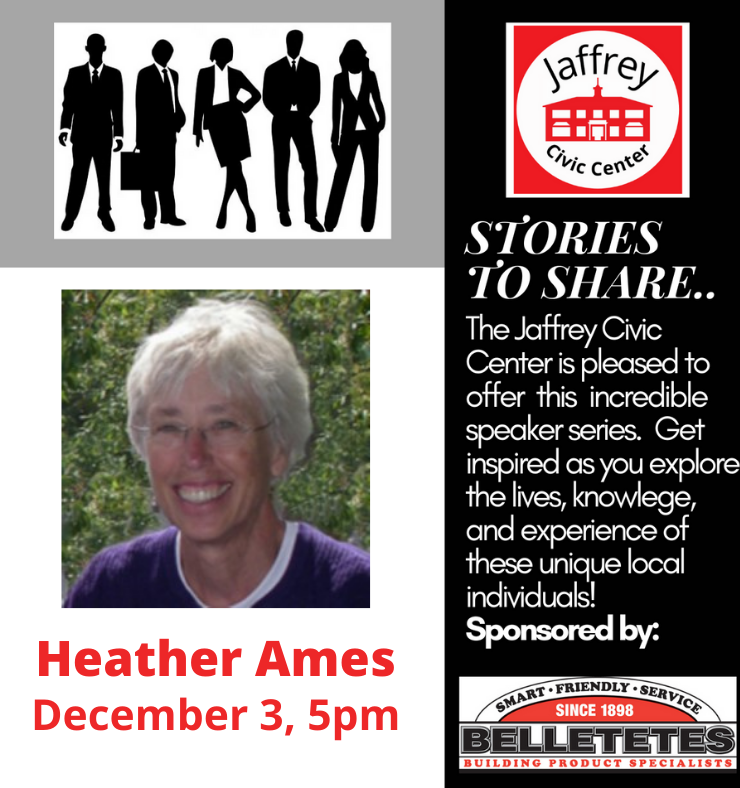 On Friday, December 3, at 5pm, the Jaffrey Civic Center speaker series, "Stories to Share" will continue with speaker Heather Ames. Her topic will be "Building Connection to Birth Heritage in International Adoption; A Personal and Professional Experience."
The talk is the third in the Center's monthly speaker series, which is held on the first Friday of each month, October to May. The program will be available as an in-person event at the Jaffrey Civic Center in the Auditorium Gallery as well as via Zoom. Pre-registration is strongly encouraged. These programs are free of charge, but to help support this event and others like it, donations are appreciated. The series is supported by our Exclusive Platinum Sponsor Belletetes, Inc.
Heather first came to Jaffrey as a child when her family spent summers on Thorndike Pond. Her parents retired to Jaffrey, and now four of the six children in her family have retired to the Monadnock region. Heather and her husband Dick have lived in Jaffrey permanently since 2007. Heather received her BA from Connecticut College and her MSW from Simmons College. Her volunteer activities have included working with Project Home and serving on the boards of Shelter from the Storm and the Mariposa Museum.
Heather will be speaking about how her personal experience in raising a child adopted from Korea led to her work in post adoption services. She will focus on the impact of travelling with families to their adopted child's birth country.
Joe Steinfield, who writes monthly columns for the Keene Sentinel and the Monadnock Ledger-Transcript, is the moderator for the series.
To register for in-person event go to :
https://www.eventbrite.com/e/heather-ames-tickets-211160656207
To register for zoom please email: