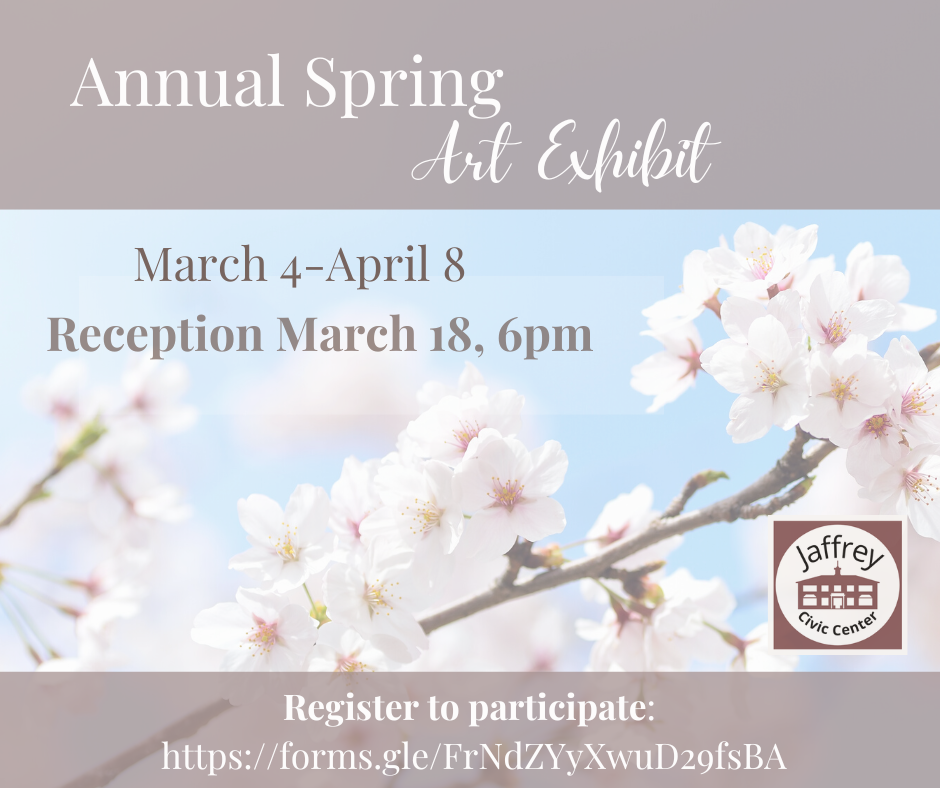 Annual Spring Exhibit
This is an open show. Works in both 2 and 3 dimensions no larger than 48″ in any dimension will be accepted. 
Dates and Information:
• Deadline for entry of forms and images: February 24, 2023 at midnight
• Artwork needs to be delivered to the Jaffrey Civic Center, March 1  12-5
• Exhibit opens March 4, Reception March 18 6pm
• Exhibit closes April 8
• Pick-up of work April 11, 12-4pm.
•  $ 12 per entry for JCC Members
• $  15  per entry for Non members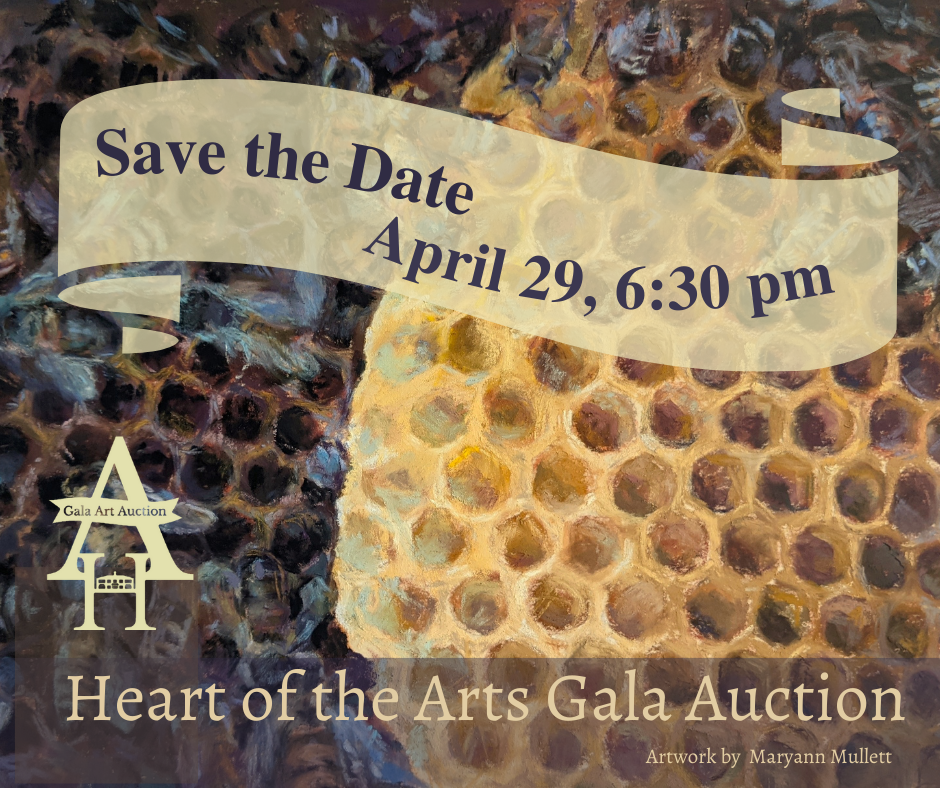 2023 Heart of the Arts Gala Auction
The 2022 Arts Auction Gala was an overwhelming success,not only for the Jaffrey Civic Center, but also for the artists who participated. Ninety percent of the art works in the live auction were sold & about 50% of those in the silent auction were sold.
As a charity art auction, this is an opportunity for you to showcase your work to an enthusiastic audience.
For this fundraiser, the Jaffrey Civic Center retains forty percent of the selling price. Of course, artists who choose to assign eighty percent or more of the selling price to the Jaffrey Civic Center will receive special acknowledgement at the event, on our website, and on social media platforms.
Please consider participating in this exciting annual event.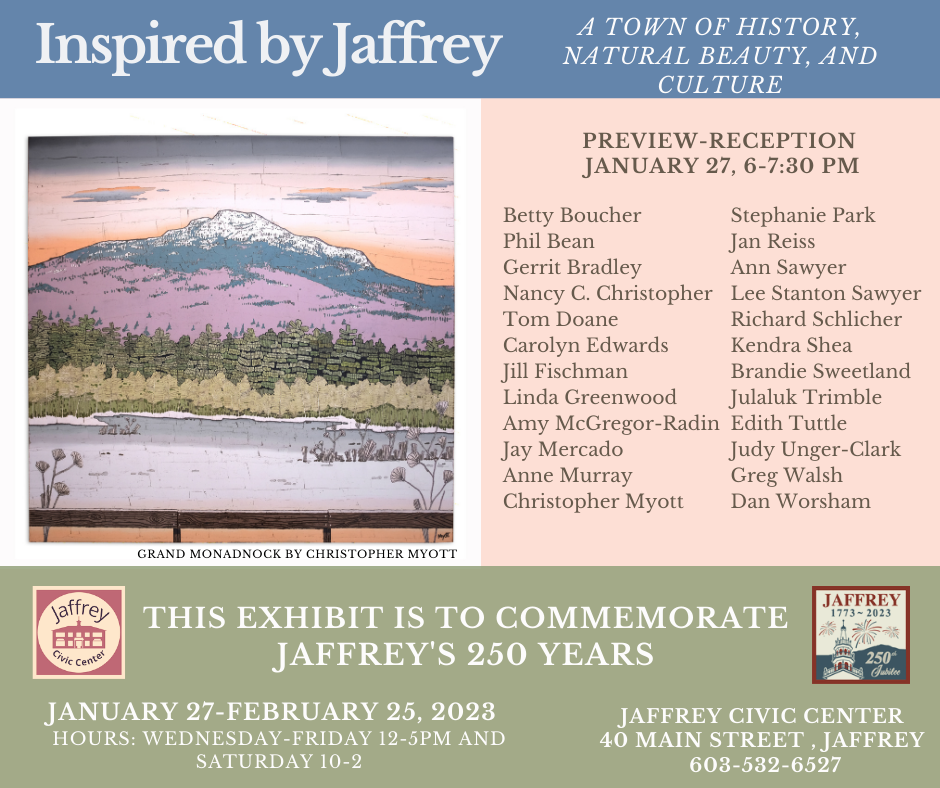 Inspired by Jaffrey: A Town of History, Natural Beauty, and Culture
"Inspired by Jaffrey: A Town of History, Natural Beauty, and Culture" is planned in collaboration with the Jaffrey 250th Committee in honor of the town's 250th celebration. Steve Pelkey of the Jaffrey 250thOrganizing Committee shares his thoughts on the show:
 "The Jaffrey 250th celebration would not be complete without the artistic vision that is reflective in our historic Jaffrey Civic Center. We are thrilled the Civic Center is hosting an art exhibit to feature our towns 250th anniversary and look forward to viewing all the amazing artwork."
 The exhibit will be on display at the Jaffrey Civic Center January 28-February 25. There will be a special preview reception, which is open to the public on January 27, from 6-7:30. Light refreshments will be served. In the event of inclement weather, please check the Jaffrey Civic Center website jaffreyciviccenter.com for potential cancellation and/or rescheduling of reception.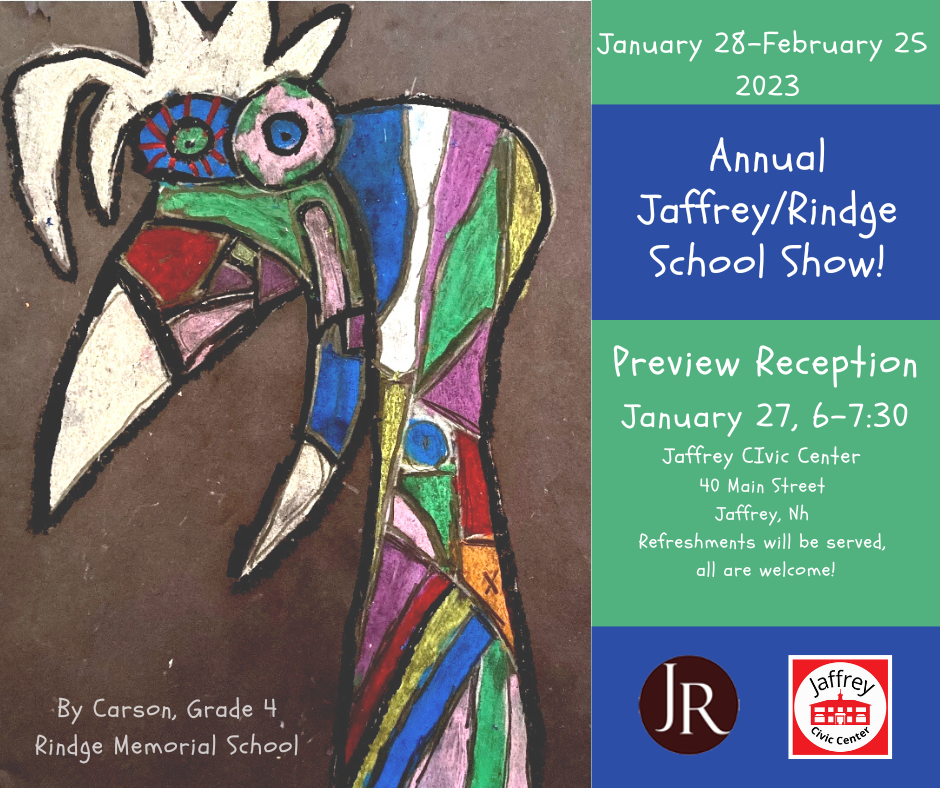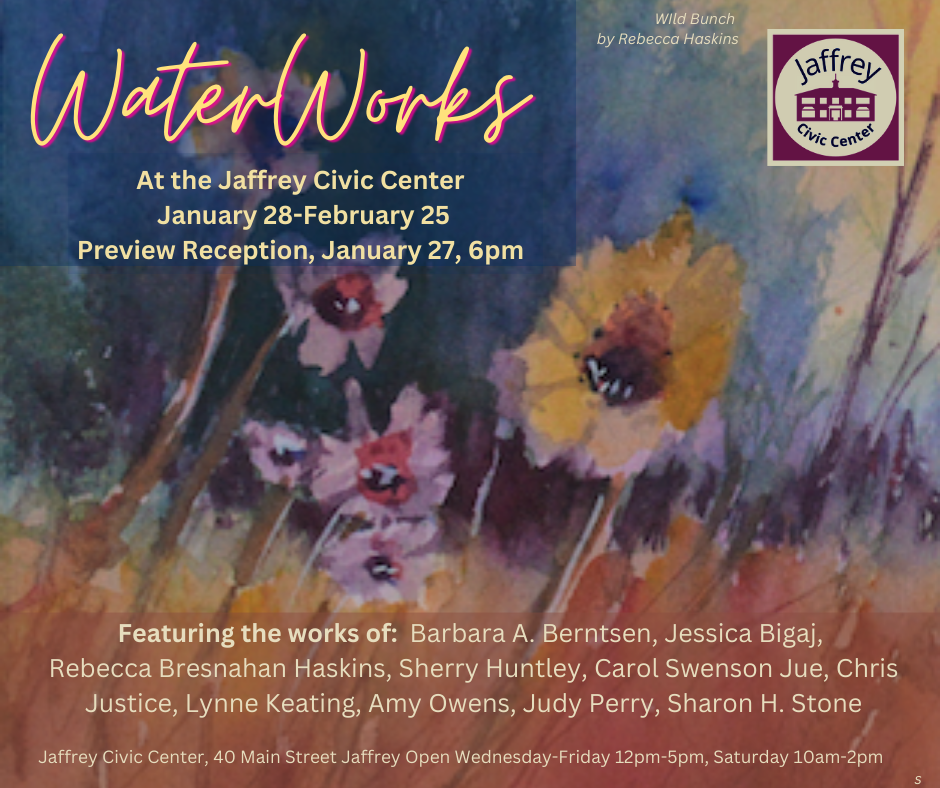 Water Works
January 28th until February 25th
An opening reception will be held on Friday, January 27th, from 6 to 7:30 ( in case of inclement weather, check the website and social media for event status)
After painting individually for several years, a group of women watercolor artists joined together to form Water Works in 2017. They have displayed their paintings in Keene, Swanzey and Jaffrey. Their most recent show was in October at Whitcomb Hall in West Swanzey. Each artist has her own style and they were delighted to be invited to Jaffrey Civic Center to display some of their smaller works. The artists in the show include:Barbara A. Berntsen, Jessica Bigaj, Rebecca Bresnahan Haskins, Sherry Huntley, Carol Swenson Jue, Chris Justice, Lynne Keating, Amy Owens, Judy Perry, & Sharon H. Stone.