CALL FOR ART!
Inspired by Jaffrey: A Town of History, Natural Beauty, and Culture. This exhibit is to celebrate Jaffery's 250th anniversary and all works should be inspired by or include Jaffrey in some way, This is an open show. Works in both 2 and 3 dimensions will be accepted.
Dates
• Deadline for entry of forms and images: January 14, 2023 at midnight•
• Accepted artwork needs to be delivered to the Jaffrey Civic Center, January 25, 12-5
• Exhibit opens January 28
• Pick-up of work March 1, 12-5pm.
• $ 12 per entry for JCC Members
• $ 15 per entry for Non members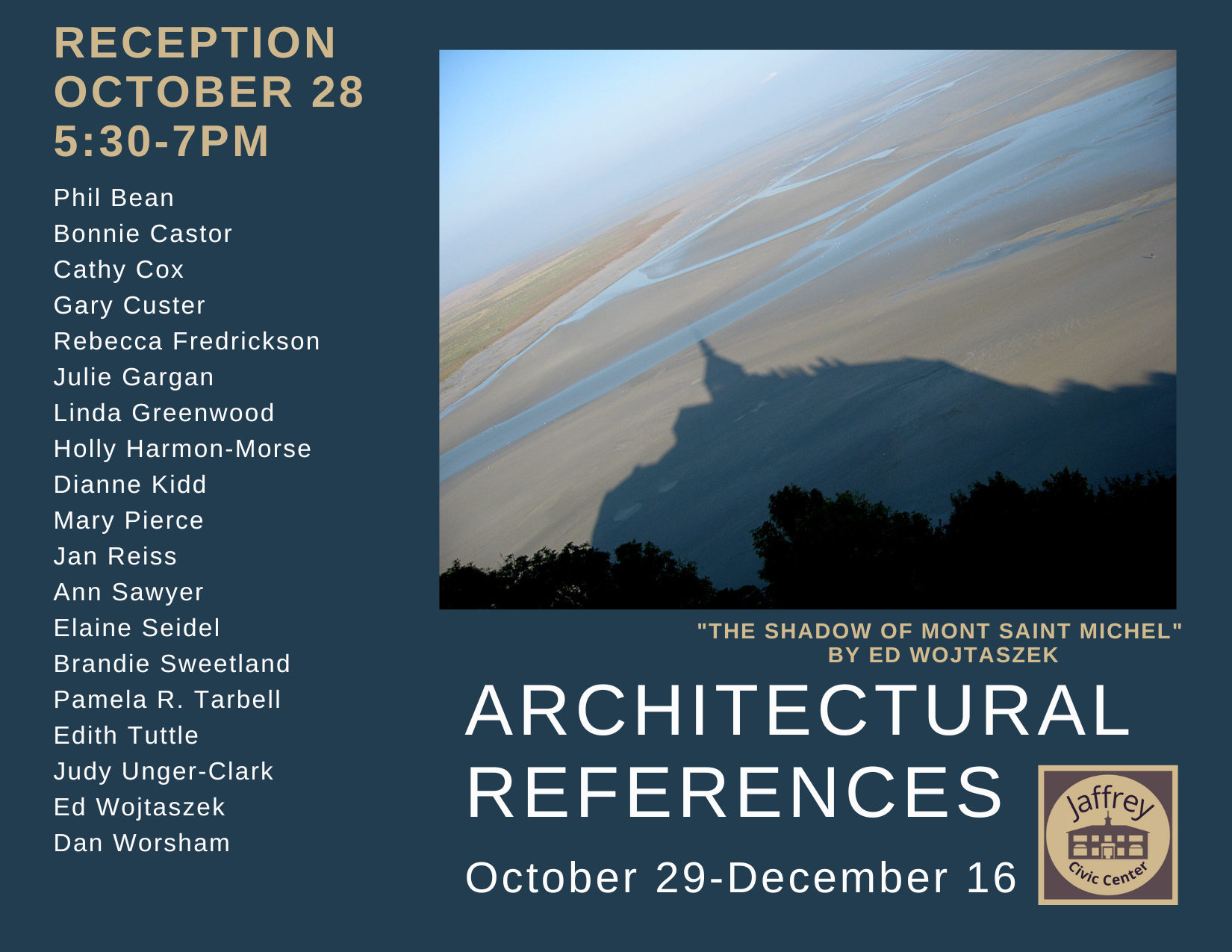 "Architectural References"   
Architecture is an art in its own right. The upcoming exhibit at the Jaffrey Civic Center titled "Architectural References" explores the theme of architecture through other forms of art. The show which runs October 29 -December 16, in the Auditorium Gallery of the Jaffrey Civic Center, features the work of nineteen artists: Phil Bean, Bonnie Castor, Cathy Cox, Gary Custer,
Rebecca Fredrickson, Julie Gargan, Linda Greenwood, Holly Harmon-Morse; Dianne Kidd, Mary Pierce, Jan Reiss, Ann Sawyer, Elaine Seidel, Brandie Sweetland, Pamela R. Tarbell, Edith Tuttle, Judy Unger-Clark, Ed Wojtaszek, and Dan Worsham. 
Included in the exhibit are drawings, paintings, mixed media works, and photography which all include some reference to architecture. The main image for the center is using for the show, "The Shadow of Mont Saint Michel by Ed Wojstaszek has no actual building in it at all, the reference comes in the form of a shadow.
 Rebecca Fredrickson, Executive Director of the Jaffrey Civic Center and participant in the exhibit, shares her thoughts on the show: 
 " I particularly enjoy this show, architecture surrounds us and plays such a big role in all of our lives. The spaces we exist in can influence our comfort and our moods and they can inspire us. The theme is open to interpretation it is fun to see what artists come up with."
 The center is open Wednesdays through Fridays, noon to 5pm and Saturdays 10 am-2pm.  There will be a preview reception to celebrate the works and artists in the exhibit October 28, from 5:30-7pm. All are welcome to attend. 
Donate Today!
Your contributions will help keep this important community and cultural center open for future generations!