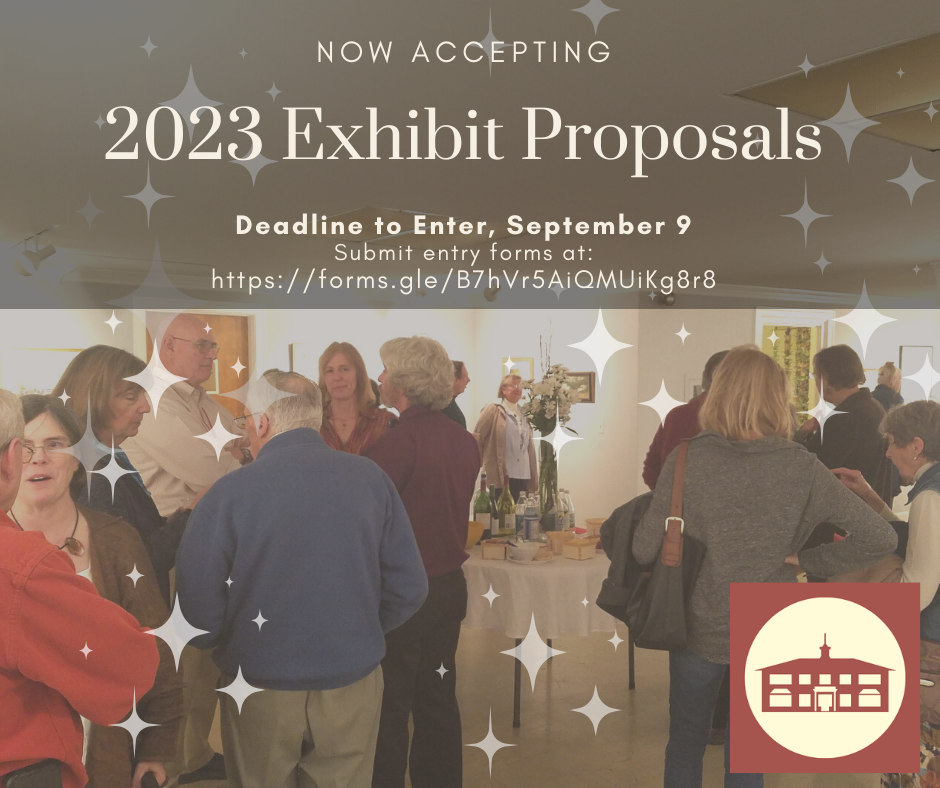 Calling All Artists!
The Jaffrey Civic Center is inviting artists, curators, and groups to submit proposals for consideration for the center's 2023 exhibition schedule. There are three spaces available: the first floor Auditorium Gallery ($150 for 5 weeks) , the second floor Cunningham Gallery, ($150 for 5 weeks)and the first floor display cases ($75 for 5 weeks). All display areas are handicapped accessible. The exhibits can be for solo shows, invitationals, and group exhibitions. Artists and show organizers are responsible for hanging and taking down exhibitions. The deadline to submit proposals is September 9. By October 5, we will notify artists of decisions via email.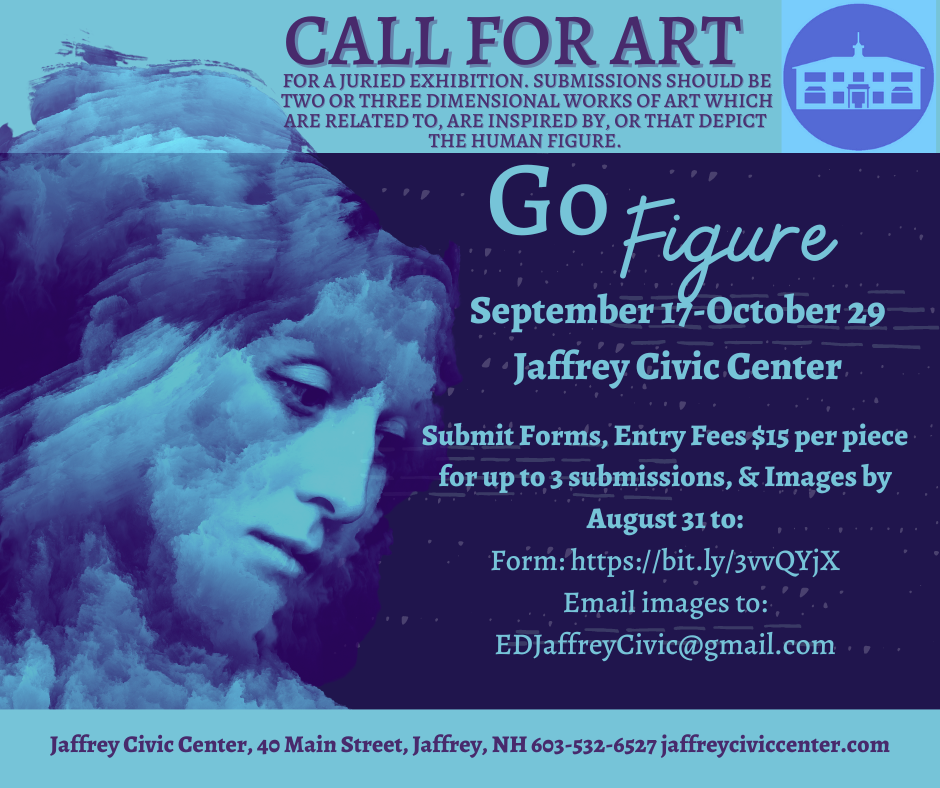 Call for art for upcoming exhibit titled Go Figure.
All works should be inspired by or reflective of the Figure . Works can be in any material, both two and three dimensional.
Dates
• Deadline for entry: August 31, 2022  at midnight
• Jury notifications artists notified by email after 5 pm, September 7, 2022
• Accepted artwork needs to be delivered to the Jaffrey Civic Center, September 14, 12-5
• Exhibit opens September 17
• Pre-view Reception September 16, 5:30 -7pm
• Exhibit closes October 29
• Pick-up of work November 2, 12-5pm.
•  $ 12 per piece or JCC Members
• $ 15 per piece Non-members
• Entry fees are non-refundable so please carefully select your member
status.
• You may submit 1 to 3 images, however it is possible none or not all of the images may be accepted in the show, after filling out this form, images  should be emailed to : edjaffreycivic@gmail.com Please email up to 3 images. File names must contain the title of the work and artist's name. Payments must be made in full to be considered for this exhibit. • Deadline: August 31 at 11:59 p.m. Eastern time.
"A Quilt Artist's Manifesto: Celebration of Catherine LaDu (1924 – 2013).
This exhibition was organized by a close friend and collector of LaDu's work, Elizabeth Titus. The show which features over 20 of Catherine LaDu's quilts runs from July 23 –September 3, 2022. Many of the quilts are for sale, with proceeds going to local organizations. A reception will be held August 4 from 5:30-7.
Fabric is innately pliable and fragile. Moreover, it symbolically represents our own bodies, temporal lifelines, and the social ties to one another. As an artist's medium, it perfectly suited Catherine LaDu. She and her family summered in their "happy place" on Lake Contoocook beginning in the 1960's, next to their close family friends, and she eventually relocated from Ann Arbor, MI to Rivermead in Peterborough. Throughout her adult life, she was knitting, weaving or sewing creations that were a fusion of technical craft and her unique whimsical, visionary, powerful artistic expression. During her life, some of her work was sold by the League of NH Arts and Crafts and has been included in textile art publications. Her interest in art quilts grew out of her work in tapestry. The range of techniques available in quilting allowed her to "speed up the process that is essentially portraiture," and she produced many quilts during the last four decades of her life. In her words, "I like to play and make puns with words, ideas, and materials. The techniques of photocopy transfer and fabric collage allow me to indulge in this pleasure."
Her quilts have dreamlike qualities. The collection includes some of her "Phantasy Island Portraits." These are layered panels with stitching and fusing on netting. "The result is not only an image of someone's fantasy, but a "fantastic image", since the whole design never appears on a single plane."
Like her dreams, the collection of quilts contains elements of humor and whimsy, the surreal, literary allusions, and emotional punch. The images and emotions captured in many of these quilts resonate strongly today.
Member Exhibit
The Jaffrey Civic Center will be hosting a member exhibit in the Cunningham Gallery. The show, which runs July 30-September 10, will kick off with a preview reception on Friday, July 29, from 6:00-7:30. This is the first annual member exhibition. Currently, the Civic Center has over 40 members and many styles, mediums, and subject matter will be represented in the show.
Members in Exhibit:
Maureen Ahern, Susan Barker, Phil Bean, Mary Bradley, Loring Cheney, Nancy C. Christopher, Francelia Clark, Paul Cooper, Mary Cornog, Barbara Danser, Donna Eaton, Susan Ellis, Brenda Ferro, Jill C. Fischman, Karen Fortier, Rebecca Fredrickson, Betty Glass, Carole Gourvellec, Linda Greenwood, Rebecca Hastings, Greg Hunsaker, Carol Swenson Jue, John Kessler, Barbara Jo Kingsley, Sally Keller, Mary Kirk, Ilona W. Kwiecien, MaryAnne Laning, Amy McGregor-Radin, Edward J. Merrell, Anne Murray, Scott Niemi, Shara Osgood, Diane Orzel, Mary Pierce, Amy Pfiel, Susan Roston, Joe Smith, Craig Stockwell, William Turner, Susan M Wadsworth, AnneMarie Warren, Donald Wilson, Ed Wojtaszek
Dan Worsham
Models
Dan Worsham, like most young boys at that time, was really into making models. Every Saturday when he got his allowance ( which was a dollar) he would hop on his bicycle and head for the local Rexall store with his allowance burning a hole in his pocket.
His first love was airplanes, and he probably made every one the store stocked. Then he moved on to cars and boats.
As an adult, he became involved inmiatures (1/12th scale). And his love of movies gave him lots of subjects to create. So he started making vehicles that appeared in the movies. Each item was a different scale as ther was know way to know what the original size of the movie crafts.
We hope you enjoy the exhibit. The older folks will remember these vessels and movies. Enjoy.
-Dan
Hannah Davis Stained Glass from the First Baptist Church in Jaffrey, Built in 1830, Raised in 1968
First Five Churches of Jaffrey

Donate Today!
Your contributions will help keep this important community and cultural center open for future generations!