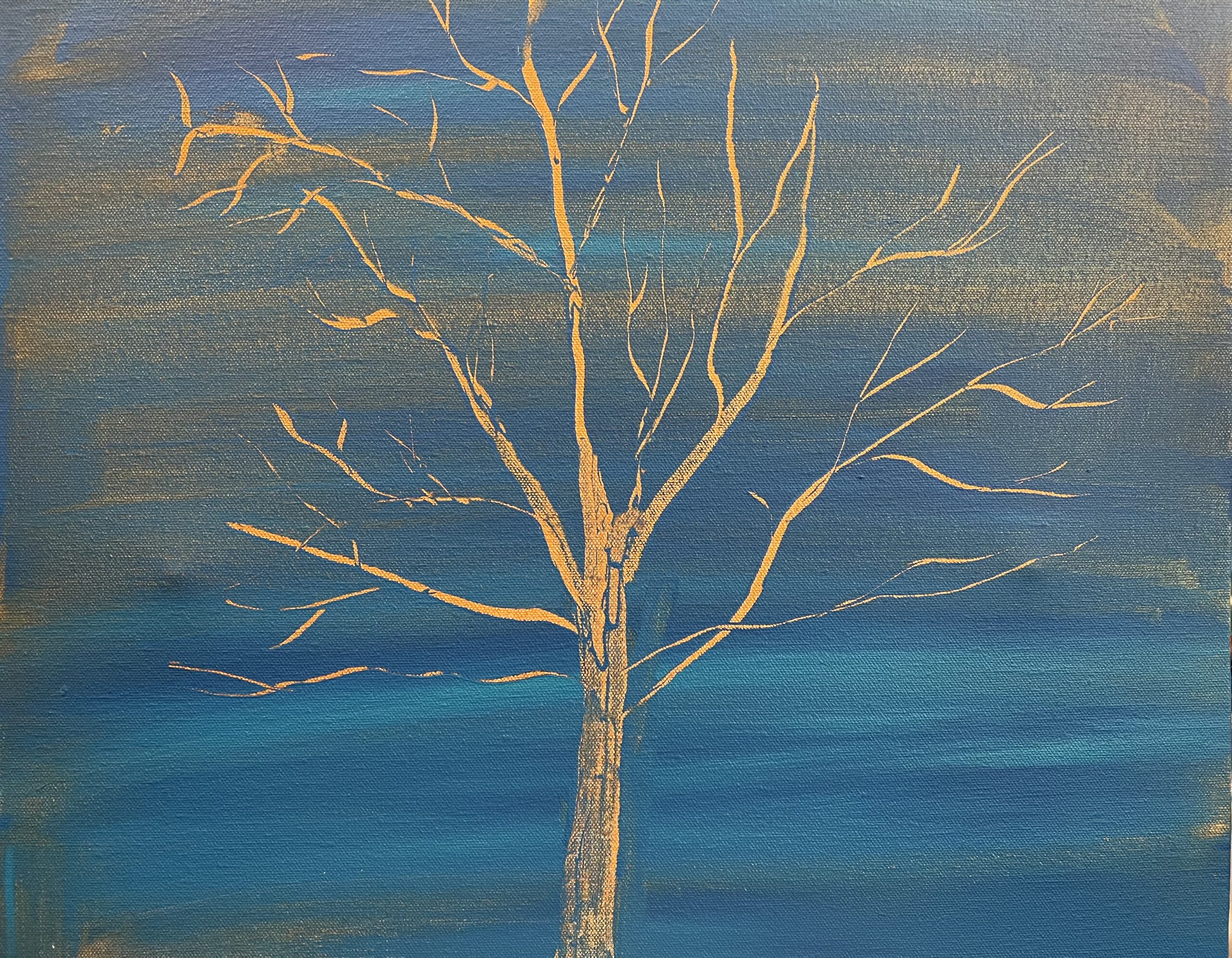 Double Image: L.A. Dierker and Frankie Brackley Tolman

The Jaffrey Civic Center is pleased to announce "Double Image," a multi-media art exhibit of paintings by Frankie Brackley Tolman and videos and original music by L.A.Dierker.
The exhibit will be on display in the Cunningham Gallery at the Jaffrey Civic Center from September 29th to November 4th, 2023. There will be an opening reception on September 29th from 5:30-7 pm with Sunflowers Catering providing the refreshments. In this original collaboration, images of some of the paintings will be merged via video with scenes from nature filmed by L.A. Dierker and accompanied by her original music compositions. Their themes include forests and trees, flowers, and waterways. Though not required to enjoy this exhibit, ear buds may enhance the experience.
Frankie Brackley Tolman has achieved Signature Status from the New England Watercolor Society and the Rhode Island Watercolor Society. Her work has been juried into many national and local exhibits and has graced two published book covers and one CD jacket. She taught experimental water-media and mixed media at Sharon Arts School for 15 years.
L.A. Dierker is a composer, sound artist, and filmmaker whose work has been performed at venues in New York City, Philadelphia, Vermont, and New Hampshire. Her compositions have included Uplands, premiered by the Keene High School String Orchestra, Harrisville Soundscape, commissioned by Historic Harrisville and Solace: A Bagatelle for Woodwind Quartets, which was featured at the Alumni exhibit at the Thorne-Sagendorph Gallery at Keene State College.
The public is invited and welcome to view this exciting exhibition during the centers' open hours Wednesday through Friday noon to five, and Saturday 10-2 while the show is up, August 18-September 23.  All are welcome at the reception on August 17-5:00-7pm.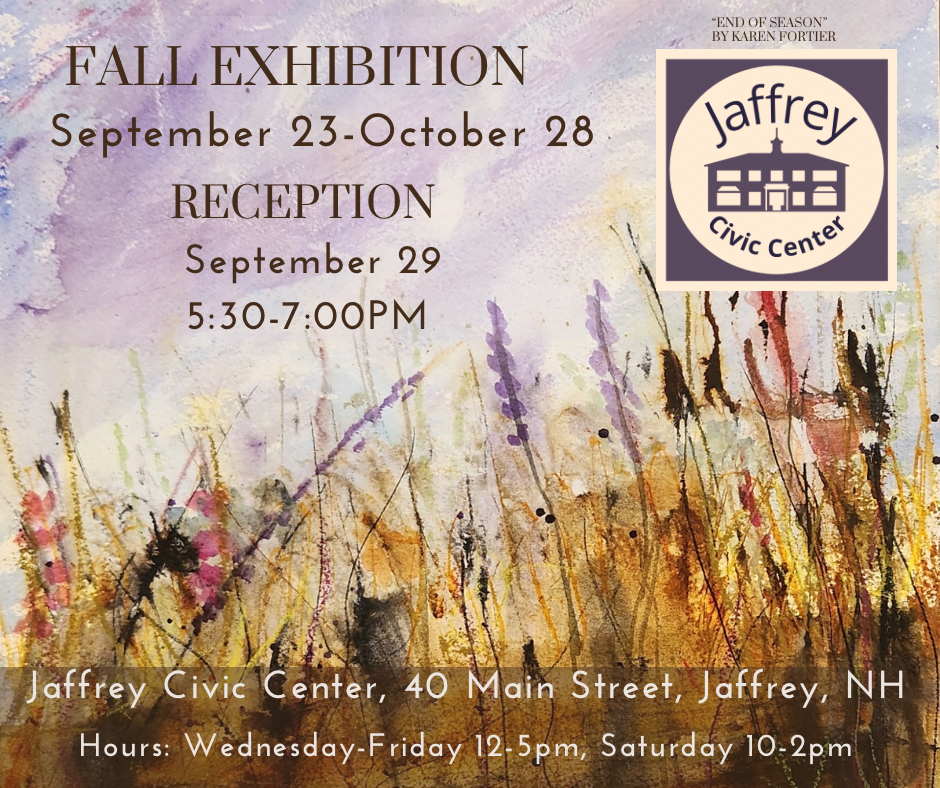 FALL EXHIBITION: Artists include: Joanna Draugsvold, Donna Eaton, Scott Niemi, Bruce Boyer, Susan Roston, William Turner, Mary Bradley, Mary Pierce, Bonnie Castor, Stephen Geloran, Karen Fortier, Lorna Perkins, Amy Pfeil, Andrew Niemi, Jonathan Niemi, Andrew Hopkins, Anne-Marie Warren, Raleigh Ormerod, Amy Owens, Victoria Tkaczevski, Susan Ellis, Cathy Cox, Ed Merrell, Jackie Griswold, Kim McCullough, Sandy Sherman, Rebecca Fredrickson, Lee Stanton Sawyer, Jill Fischman, Paul R Cooper, Holly Harmon-Morse, Carolyn Edwards, Betty Glass, Phil Bean
Jaffrey Civic Center Presents Highly Anticipated Fall Exhibition: A Celebration of Art and Culture
The exhibit will run from September 23-October 28. There will be an opening reception September 29, from 5:30-7pm.
The Jaffrey Civic Center is renowned for its commitment to promoting local and national artists, fostering cultural enrichment, and creating a vibrant arts community. With the "Fall Exhibition, A Celebration of Art and Culture," the center continues this tradition, inviting artists from all walks of life to present their inspiring works to a broad audience.
From mesmerizing paintings to captivating sculptures, photography to mixed media, this exhibition boasts a broad range of artistic creations. Visitors will have the opportunity to immerse themselves in unparalleled creativity, embracing a journey through different cultures, emotions, and perspectives. It's an exhibition that will undoubtedly leave a lasting impression on all who attend.
The Jaffrey Civic Center invites the community, art collectors, and visitors from near and far to explore this vibrant display of talent. The gallery will be open to the public from Wedesday to Friday, 12 pm to 5pm, and Saturday, 10am to 2 pm. Admission is free, ensuring that art remains accessible to all.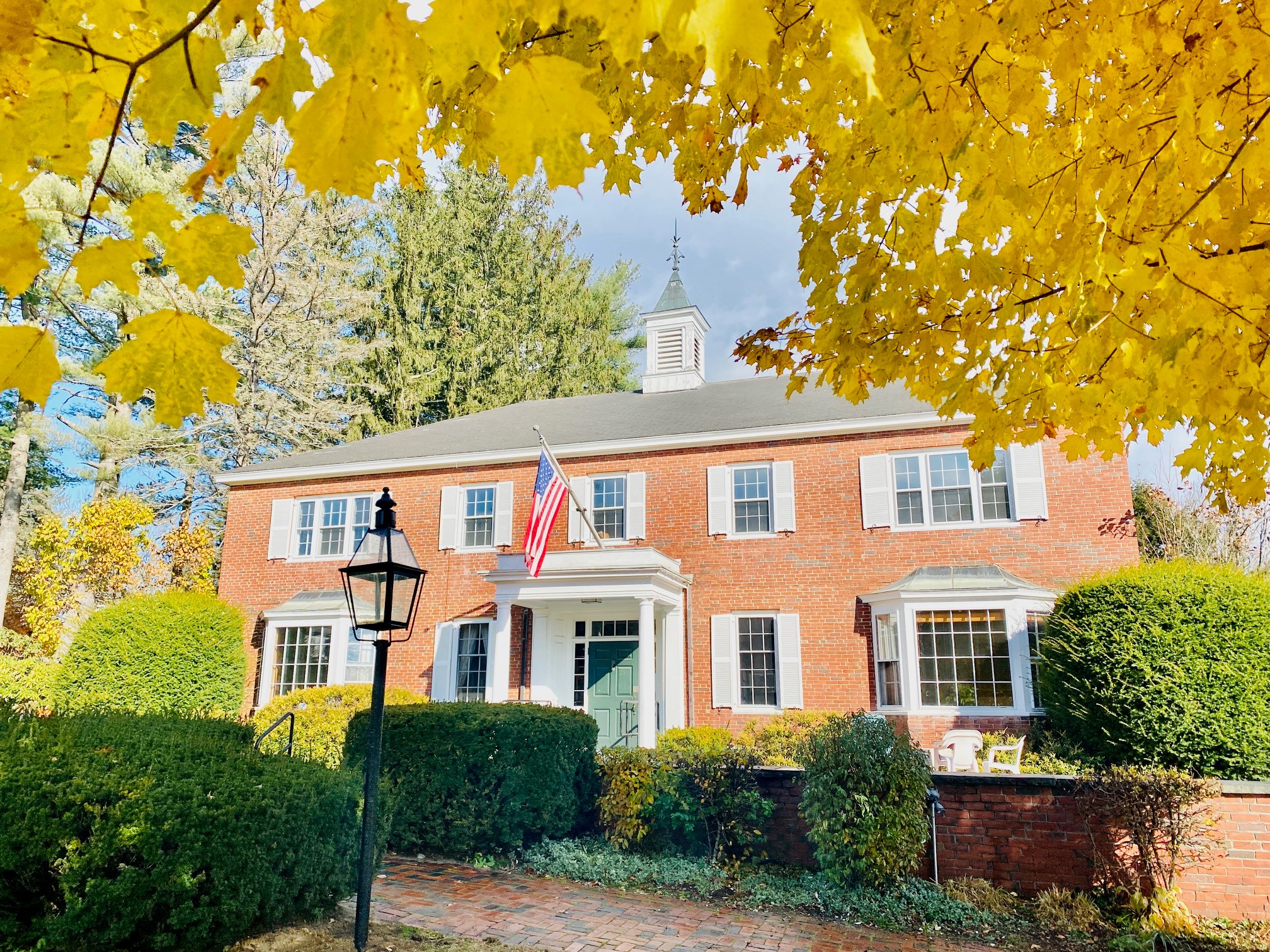 Jaffrey Civic Center
Fall Exhibit
Call of Entry is CLOSED
The Jaffrey Civic Center is thrilled to announce the Fall  Exhibit. This event will be held at the Jaffrey Civic Center, 40 Main Street, Jaffrey, beginning September 23rd and will run through October 28.
Exhibit Information:
•

Art must be display ready. No piece larger than 60" square.
•

Art should weigh no more than 100 lbs.
Important Dates
September 20, 12pm-5pm date to deliver art work
September 29, 5:30-7 pm preview reception
Pick up of work November 1,  1-5pm
Jaffrey Civic Center -2024 Exhibit Proposal Form
The Jaffrey Civic Center is inviting artists, curators, and groups to submit proposals for consideration for the center's 2023 exhibition schedule. There are three spaces available: the first floor Auditorium Gallery ($150 for 5 weeks) , the second floor Cunningham Gallery,  ($150 for 5 weeks)and the first floor display cases ($75 for 5 weeks).  All display areas are handicapped accessible. The exhibits can be for solo shows, invitationals, and group exhibitions. Artists and show organizers are responsible for hanging and taking down exhibitions. The deadline to submit proposals October 10. By November 1, we will notify artists of decisions via email.