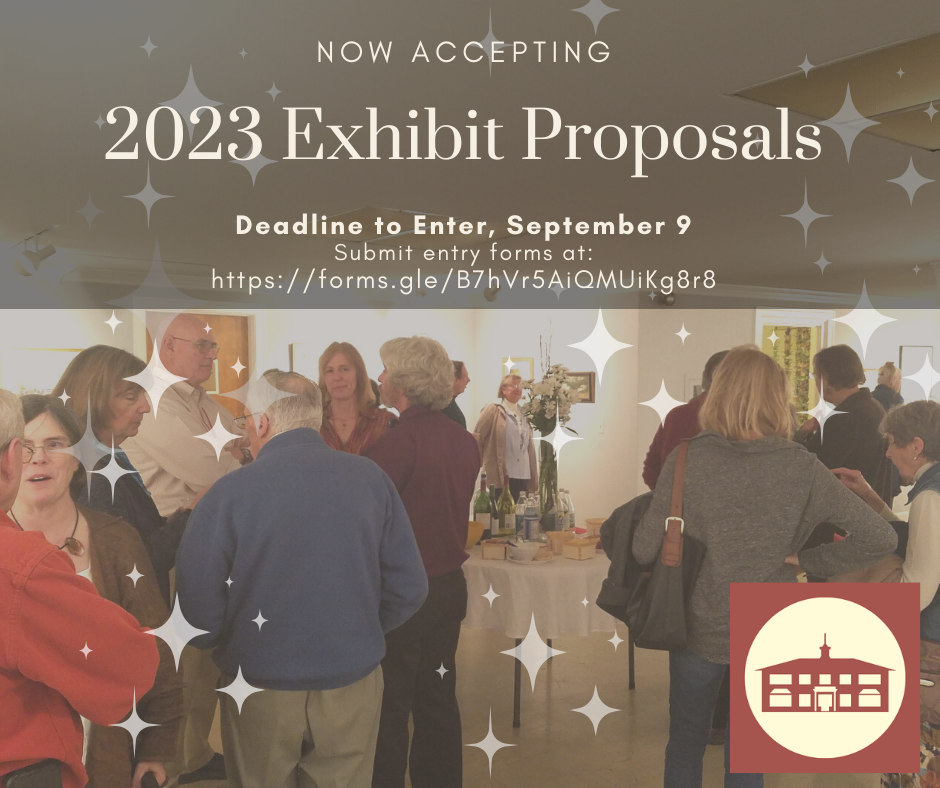 Calling All Artists!
The Jaffrey Civic Center is inviting artists, curators, and groups to submit proposals for consideration for the center's 2023 exhibition schedule. There are three spaces available: the first floor Auditorium Gallery ($150 for 5 weeks) , the second floor Cunningham Gallery, ($150 for 5 weeks)and the first floor display cases ($75 for 5 weeks). All display areas are handicapped accessible. The exhibits can be for solo shows, invitationals, and group exhibitions. Artists and show organizers are responsible for hanging and taking down exhibitions. The deadline to submit proposals is September 9. By October 5, we will notify artists of decisions via email.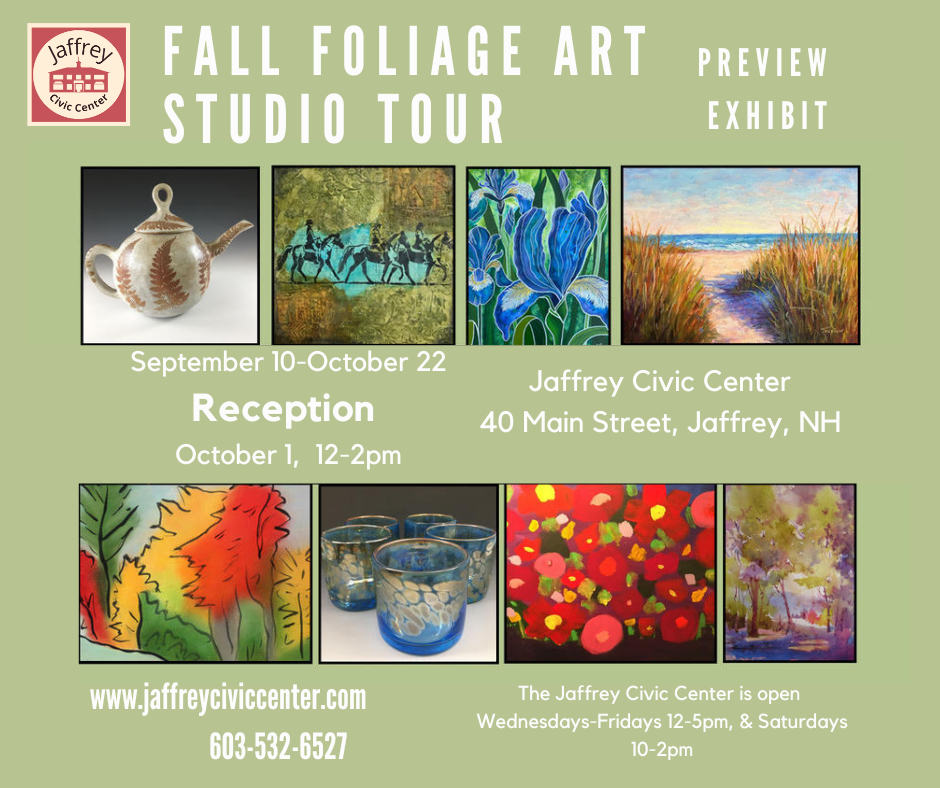 "Fall Foliage Art Studio Tour Preview Exhibit"
Paintings, drawings, prints, and fiber works will be on display in the JCC's downstairs Auditorium Gallery from Sept. 10 – October 22.  New artists this year include printmaker and Keene professor Rosemarie Bernardi, Shannon Perry of Keene, Jessica Thurber of Rindge, and Tristan Bridges from Swanzey.  Bernardi's works show many black and white, heavily detailed forms, while Thurber's work is more organically abstract.  Bridges and Perry also work with recognizable images that are often abstracted.  Nancy Belsky's fine fiber works will be on exhibit with Bob Englund's woodworking during the tour in Munsonville.
The display cases outside the gallery will include ceramics by Shana Brautigam from Rooted in Clay in Rindge; the wood turned talents of Bob Englund and Kenny Greatbatch from Swanzey; the pewter works of Joe Farchaus from New Ipswich; and the blown glass of Alex Kadish from Antrim.  The display cases will be on view from Sept. 23 – Nov. 5.
Other FFAST artists include Dave Bulger's realist paintings from Marlborough; Susan Wadsworth's Japanese-inspired landscapes from her Rindge studio; and several artists from New Ipswich: encaustic painter Danielle Le Bris and her sculptor husband Gerry Friedman, as well as Lisa Derby Oden and Judith Prager who also explore that line between representation and abstraction.  In Swanzey, the Pipe Dream studio of Jean Thieme and Gill Truslow will show impressionist realism along with guest artist ceramicist Forest Bencivenga.  Frankie Brackley Tolman's colorfully abstract studio in Nelson will also show the work of guest artists: painter Mary Wood Cornog and composer/filmmaker Louise A. Dierker.
By far, the most represented town on the FFAST map is Keene, with Sue Doyle's pencil works and the paintings of Marylise Reilly-Fajal, Carol Corliss, Karen Fortier and Mary Ellen Pellerin.
There will be a reception on Oct. 1 from 12-2 p.m. at the Jaffrey Civic Center.  Come meet those whose FFAST studios you may visit over Columbus Day weekend (Oct. 8-10) from 10-5.
Detail of "Charlotte in a Red Hat" by Michele Riche
"Go Figure"

People are inspiring! That's the theme of an upcoming exhibit at the Jaffrey Civic Center. Titled "Go Figure" the show features the work of 35 artists. Included in the exhibit are drawings, paintings, mixed media works, sculptures, and photography all include and are inspired by the human form. The show runs from September 17 – October 29 at the Jaffrey Civic Center. The center is open Wednesdays through Fridays, noon to 5pm and Saturdays 10 am-2pm.  There will be a preview reception to celebrate the works and artists in the exhibit September 16 from 5:30-7pm. All are welcome to attend.
The show includes the work of 35 New England artists. They are: Amy Miller, Barbara Danser, Barbara Jo Kingsley, Barbara Morse, Cassidy Kehlenbach, Christopher Myott, Craig Stockwell, Ed Wojtaszek, Edith Tuttle, Elizabeth Kelley Erickson, Fred Howland Gary Custer, Humberto Ramirez, Jackie Griswold, Jan Mercuri Grossman, Jane E. Simpson, Jill Goldman-Callahan, Joan Hanley, Karen Fortier, Kimberly McCullough, Linda Greenwood, Maya Fredrickson, Marcy Pope, Marie Despres, Mark Manley, Michele Riche, Patricia Schappler, Rebecca Fredrickson, Rose Lowry, Sally Keller, Susan Ellis, Susanne Larkham, & William Turner.
The exhibit is stylistically diverse. The work of Sally Keller is expressive, loose, and painterly. Patricia Schappler's paintings are highly realistic and include painstaking details. Marcy Pope's piece "Protest" uses simplified human forms and bold colors to communicate the meaning behind the work.
After seeing Joan Hanley's figurative work in a recent Women's Caucus for the Arts Exhibit, the center's Executive Director Rebecca Fredrickson invited Hanley to jury the Go Figure exhibit. Hanley paints in the former Harrisville Mill's Sorting and Picker House in New Hampshire, USA.  She has shown her paintings at the Fitchburg Art Museum, MA, Brattleboro Museum, VT, the Mariposa Museum, NH, Museum of Fine Arts Boston, MA, the Open Center NY, the University Museum of Contemporary Art at UMass, the Fitchburg Art Museum and the Attleboro Museum, MA.
Rebecca Fredrickson, Executive Director at the Jaffrey Civic Center is thrilled to have Joan working on this event.
"She brings so much enthusiasm, knowledge, and experience to the role. She has done a fantastic job selecting and organizing the works in this exhibit."
Joan shared these thoughts on the exhibit: "I was impressed with the response we got to our open call for the Go Figure exhibit. To create this exhibition, we chose from 60 works of art. The resulting exhibition looks at the figure from many points of view and in diverse media. "
Dan Worsham
Models
Dan Worsham, like most young boys at that time, was really into making models. Every Saturday when he got his allowance ( which was a dollar) he would hop on his bicycle and head for the local Rexall store with his allowance burning a hole in his pocket.
His first love was airplanes, and he probably made every one the store stocked. Then he moved on to cars and boats.
As an adult, he became involved inmiatures (1/12th scale). And his love of movies gave him lots of subjects to create. So he started making vehicles that appeared in the movies. Each item was a different scale as ther was know way to know what the original size of the movie crafts.
We hope you enjoy the exhibit. The older folks will remember these vessels and movies. Enjoy.
-Dan
Hannah Davis Stained Glass from the First Baptist Church in Jaffrey, Built in 1830, Raised in 1968
First Five Churches of Jaffrey

Donate Today!
Your contributions will help keep this important community and cultural center open for future generations!